Check out the shift the Devil Rays tried to use on Pronk over the weekend. Pronk was 11-15 after three games against the Yanks and the first game of the series against the Devil Rays, which led up to this shift they used on Saturday, April 21st: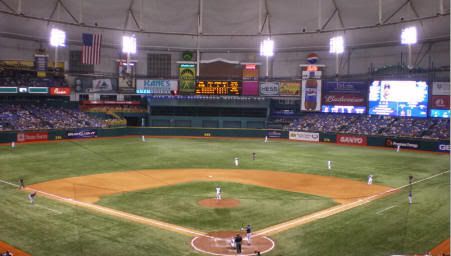 Yes, that's four outfielders and three infielders on the right side of the field. Don't ask me why Hafner wouldn't just drop one down the third base line, he'd probably get a double out of it, but that's pretty cool. Photo comes from armchair gm via fark.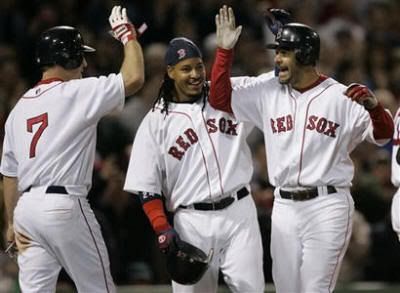 It's like automatic, stick JD Drew in a lineup, and he makes everyone around him better. How else can you explain the back-to-back-to-back-to-back home runs by the Red Sox Sunday off Yankee starter Chase Wright that led to a 7-6 win? Witness reliever Brendan Donnelly:
"Man, that was fun to watch," Donnelly said. "I'll guarantee you none of us in this room has ever seen it. I feel for the pitcher a little bit. Just a little bit, because he's on the other side."
Actually Brendan, you're quite wrong. J.D. Drew was the second of four consecutive Dodger hitters to go deep in the 9th inning of the Dodgers 11-10 extra-innings win over the Padres on September 18, 2006.
"What are the odds, the chance of being part of this twice," Drew said. "I was the second guy in both of 'em. I told Coco [Crisp] after Lowell hit his that we were one away from Los Angeles, and it happened."
As crazy impressive and amazing as that feat was for Boston, one thing to keep in mind is that the Padres won their next game, and went 10-3 after that point to finish up the season — so don't write the Yankees off for the rest of the year.
However, I do have one point of contention. My old coach used to say nobody goes back-to-back-to-back. Just doesn't happen. You know why? Because you put it in someone's ear in between. And that's the point I'm missing. How did Wright let them hit four consecutive home runs without breaking it up with some chin music? How did he just lay it up there four batters in a row? Am I wrong here?
There he was appearing as a guest analyst on The Hot List on ESPNEWS Monday, joining Josh Elliott. The title for the segment — Hall of Famer Breaks Down the Playoffs. The second question was about the 8th seeded Warriors who pulled off a stunning Game 1 victory over the top seeded Dallas Mavericks. Elliott asked Robertson what it meant to have a complete point guard like Baron Davis in the playoffs. Here was Robertson's intricately detailed response:
In this case he was making the shot. When you make the shot outside it opens up everything for you because you can go to the basket. I don't think that those guards that Dallas had — I don't remember their names right now — they're not strong enough for him.
Next, Elliott dared venture into MVP territory, asking Robertson what he liked about Steve Nash's game:
I think Steve Nash is a smart basketball player, he knows what's going on out there. I think that what he's done for the team … what about that other kid, Barbosa? Boy they have two great offensive guards, they can really bring it to you.
After that brilliant display, Elliott asked the Big O what he thought about Shaq's comments that the MVP award had been tainted. Amongst Robertson's highlights:
That's what Shaq believes. Whoever they pick, that's who they voted for.
Oscar Robertson: good at basketball, bad at analysis.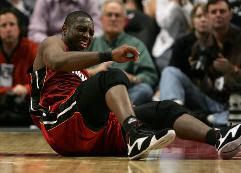 The jersey's unraveling by it's thread and nobody wants to admit it. Miami's already lost Game 1 of the series, and the Heat are searching for answers, with Pat Riley taking D-Wade to the woodshed:
'I'm not going to give him a pass," Riley said of Wade. "He did not do the job defensively that he had to do. And we just have to face that fact."
Clearly D-Wade is feeling the pressure as well:
"Coach [Pat Riley] expects the world out of me," Wade said Sunday. "He expects more out of me than anybody probably ever expected.'
Make no mistake about it — the Heat rode Wade's hot performance to the title last year. But that magic doesn't appear to be happening again this year. Luol Deng blew up the spot with a playoff career high 33 on Saturday. Shaq being the sore loser that he is, was bitching about the refs, blaming them for the Heat's loss. Miami still has plenty of room to turn it around and make a run, but a run won't get them to the finals this year. And if they do make the run, it will be because of Shaq (who needs to stay on the court), not Wade.
We already know that the Wiz are without Gilbert Arenas for the duration of the playoffs — he's out til next year with a knee injury (even if he maintains he could stand in the corner and bust threes all day). And even though I properly buried the team a while ago, they at least maintained some shred of hope to get a game off Cleveland in the playoffs. But now even that hope seems gone. Now the Wizards have officially thrown in the towel, announcing that Caron Butler will miss the first round of the playoffs:
"He is not in our plans, right now – not as a player," Jordan said after practice Monday. "If we get deeper in the playoffs, possibly, but not in the first round."
Well, you might not want to say it Eddie, so I'll say it for you, Butler's out for the year, cuz the Wizards aren't getting out of the first round. This news begs the question: is there a bigger mismatch in the first round of the playoffs? Perhaps Detroit and Orlando?
No, this is not an unfounded rumor.  Yes, I was just as stunned as you to hear it.  But none other than Adrian Peterson himself suggested that he could be drafted by the Arizona Cardinals.  On Saturday evening he joined Evan Cohen on Fox Sports Radio and was asked…
Adrian, if you had to give me two teams that you may play for — your gut feeling as to where you end up in the draft and those millions of dollars that you're going to make would be riding on it, you tell me what two teams?

I would say Cleveland or Arizona.

Arizona you think is a possibility even though Edgerrin James is there?

Yeah, yeah, I think it's a possibility.
Well, I guess Peterson would know better than anyone else considering he's the one who works out and interviews with all these teams.  But with the money the Cardinals have invested in Edgerrin James, I'm skeptical to believe they would also invest top five money on Peterson.  My guess it's one of two things:
The Cardinals really are interested in Peterson but nobody knows it
That was Adrian's way of saying he'll be a top 5 pick
I guess we'll only find out in a week.
Initially you're overwhelmed by the sheer force of the numbers — a crowd of 92,000 showed up to watch an intra-squad scrimmage. But when you get down to the nitty-gritty of the matter, of course that many fans showed up — it was their only chance to see Alabama get a win.
School officials had planned for around 50,000 fans to be on hand, and were prepared to host even 60,000 just in case. I can't imagine what 92,000 did to them. Defensive end Wallace Gilberry made a comment that he thought Florida or Tennessee were in town. Nope, just Nick Satan Saban in his first year as head coach.
It shows what kind of passion and support we have at the University of Alabama," Saban said. It certainly makes me feel great about being here as the coach. I just hope we can continue to channel all that energy in a positive way so we can get to where we want to go and continue to build this program into something special."
Translation — we're not in Miami anymore. Then again, Saban won a national title at LSU, so he knows what rabid SEC fans are like. Man, even if Saban was a jackass for leaving the Dolphins, have to feel for the guy — and anyone who has the pressure of 92,000 fans showing up for a practice game. That is pure insanity. It's that type of passion by the fans that really make you hope for some serious strides in Tuscaloosa — perhaps a 2-10 season.
I guess winning the NHL scoring title at age 19 wasn't enough for Sidney Crosby to impress us all. Now he has to go out there and tell everyone that he spent the last few weeks of the season playing with a broken bone in his foot. For brief perspective, Shaun Alexander missed six games of the NFL season with a broken bone in his foot, and he plays football, where guys are expected to be tough and play through injury. Crosby was smart for not mentioning anything about the injury — imagine how many sticks, skates, and pucks he would've taken to the foot otherwise.
"The first two weeks were pretty sore," said Crosby, who used only light padding in his skate so as not to give away the injury.

"After that, it started to heal, so it got a little bit better. When we got to the playoffs, it was sore, but it wasn't grueling or anything. I got hit there a couple times after [the initial injury]. It didn't help it, but I was fine. It just needs time."
Look, Crosby certainly isn't the first NHL player to play through a grave injury, nor is he the last. But he's a high profile, young, talented player, who battled through a serious injury for a few weeks without telling ANYONE. And for that, he deserves some serious tough points.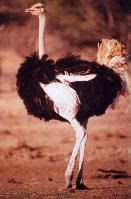 This story came from the Sports Illustrated issue a few weeks ago with Florida repeating on the cover (they're still not one of the best ever). What can I say? My restroom life is exciting. Anywhoo, I was so impressed by it, I feel the need to share. From the "Meet Jarrod the Jokester" article:
Washburn vaulted into clubhouse lore in 2000, with the Angels when he strolled into the dressing room with a nine-foot-tall ostrich. The bird panicked several players and pitcher Ramon Ortiz backed into his locker shouting in Spanish. "He was saying, 'My, God, look at the big chicken!'" Washburn says.
Clubhouse lore no doubt. How tight is that story? Think about it — an ostrich! In the clubhouse no less. Unfortunately there are a few items of this story I'm still not quite clear on; namely, how does one go about getting an ostrich? What, you just go to an ostrich farm and say "I'd like to borrow an ostrich today to play a prank on my teammates thank you?" How exactly does that work? What, did Wash just bring it home and stick it in the backyard for his his kids to play with afterwards? Who brings a freakin' ostrich into the clubhouse?! That is outsanding.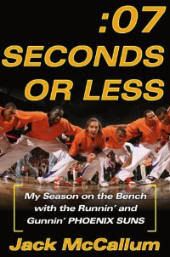 Veteran Sports Illustrated writer, Jack McCallum, wrote a book last year titled Seven Seconds or Less: My Season on the Bench with the Runnin' and Gunnin' Phoenix Suns. Well, in the opening round of last year's NBA playoffs, the Suns came back from down 3-1 in the best of seven series to win and advance to the second round. There was a questionable clothesline move by Raja Bell, some nice fighting, and bitter hatred exchanged between the teams. And with the pair set to square off in the opening round of the playoffs once again this year, Mike Bresnahan of the LA Times has pulled a couple of the more piercing selections from McCallum's book. Amongst my favorites:
"As the Suns see it, the Lakers trek along the low road," McCallum wrote. "Bryant is arrogant. [Kwame] Brown is just a big body with nothing behind it. Smush Parker was a Sun for a couple of weeks [in 2004-05] and no one rued his departure. Lamar Odom is just too damn big and long. Luke Walton seems like a nice guy … but he laid out [Tim] Thomas in Game 3 and triggered a miserable chain of events [for the Suns]. Sasha Vujacic is an all-universe whiner with an unpronounceable surname. Plus, Phil Jackson sits on a throne."

…

The Suns, while watching video of their Game 1 victory, poked fun at the Lakers' defense.

"This is when we're at our best, when we're changing ends on the fly," Coach Mike D'Antoni said. "They have no answer for it. Kwame is awful. Odom's a very average defender. Vujacic can't guard anybody. And Bryant in the open floor takes chances that aren't good."

…

An unidentified member of the Lakers left a scouting report of the Suns at the Ritz-Carlton Hotel after Game 5 in Phoenix. It quickly ended up in the hands of Suns coaches, much to the Lakers' dismay.
And my personal favorite from Suns owner Robert Sarver
"This L.A. [expletive] has got to stop," Sarver said afterward. "This is war. I hate those guys."
Nice. Something tells me it won't take seven games for the series to be decided this time. I'm going with Phoenix in 5 — Kobe's good for one win, nothing more.
Mobiright