In case you were away from the computer and TV on Sunday, allow me to fill you in. This was the focus of the main page on ESPN.com in the afternoon/evening:
If that wasn't bad enough, you turn on ESPN Sunday night to check out the MLB season opener they had been promoting all week long and you get stuck with women's college hoops. Oh that's right, the Braves against the defending World Series champion Phillies for the first baseball game of the season got moved to ESPN2. I'm guessing I'm not the only sports fan around who was looking for a baseball game and got stuck with the ladies Final Four. I don't need to see ratings to know who's watching what. I don't need figures to tell me that most people were trying to check out the baseball. I'm just sick of having the women's tourney get pushed at me as much as it does on ESPN.
How can you tell me that the women's college basketball tournament is any bigger than the softball finals which get televised on ESPN2? How is it that women's college basketball is so popular that it necessitates a selection show and full-on studio shows that take up space in the ESPNews and SportsCenter loop? The soccer, water polo, gymnastics, and softball championships all have just as equal importance to me, why is it that only basketball gets the love? Just because ESPN has chosen it to be the glamor event of women's college sports? If that many people wanted to watch women's basketball, then why has the WNBA failed? Worse yet, just because ESPN televises the games, why do their highlights get shown on TV but other sporting events that are equally or more popular get shunned? The tennis masters series was at Indian Wells in March but you wouldn't have been able to find those scores or highlights anywhere. But if you needed South Dakota St./Baylor highlight, you got it. Sure, I may have wanted to see how Courtney Paris' promise came out, but I didn't want to know that badly.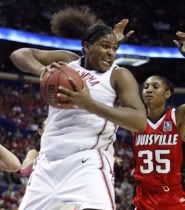 A month ago I wrote the first and only story on women's college basketball to appear on this site. Oklahoma big man woman Courtney Paris was so confident in her team's ability that she said she would pay back her entire scholarship to the school if the team didn't win the national championship. On Sunday, the Sooners lost to Louisville in the Final Four, two wins shy of the national championship. Paris' season and career is over, and now she should be lighter in the wallet if she'll make good on her promise. Paris intends to do so:
"I will make good on that guarantee – not today, though," said Courtney Paris, who finished with 16 points and 11 rebounds, "Obviously I don't have $64,000 waiting, but I do make good on it.

"The real cost is that it's over. We don't get to come back. It's over."
I'm not exactly one of those investigative reporters who climb through the trash outside a steroids testing lab to see who's on "the list," but I actually would want to see Oklahoma's books the next several years to see if she's repaying that money. I highly doubt it. I want to see a television conference where she hands over one of them big ass Happy Gilmore sized checks to the university. I also came to find out from the story that her father is a former NFL player. Can't imagine that has anything to do with her whimsical attitude in making such a ridiculous promise. Then I have clowns in Oklahoma saying she shouldn't pay it back. Next time she should think before she tries to go Broadway Joe. Would have made for a nice story if her team handed UConn its first loss of the season. Oh well.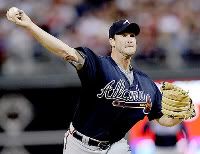 I guess there are two sides to this issue and I should wait to see what the new members of the Dodgers' pitching staff do before I say they miss him, but it's hard to see a two-hit shutout over eight innings and say a team couldn't use it. Derek Lowe was brilliant in his Braves debut, shutting down the defending World Series champion Phillies for eight innings. He allowed just two base runners all game, both reaching on ground ball singles. Lowe also got four runs of support in the first two innings — something he hardly ever saw with the Dodgers. A big part of Lowe leaving the Dodgers was him sensing that the team didn't appreciate him enough. I completely agree.
It was only last week that an article in the LA Daily News praised Colletti for his off-season moves, including letting Derek Lowe walk as a free agent to sign an "exorbitant" four-year $60 million contract with the Braves. I had an email exchange with the writer who later admitted she should have elaborated and said that the contract was pricey given Lowe's age (he'll be 40 by the time the deal runs out). That further gave me the sense that the guy is nowhere near as appreciated as he should be. Lowe is and has been one of the top pitchers in the NL the past four seasons and is as consistent as they come. Without him the Dodgers wouldn't have sniffed the postseason last year and they would have been bounced by the Cubs.
Too many people are overlooking Lowe's departure when envisioning success for the Dodgers this year. I think Lowe's on a mission to prove how valuable he is because the people in LA don't seem to see it. I said it from the start that I'd rather have Lowe over someone like A.J. Burnett any day. He's part of the reason the Braves need to be taken every bit as seriously as the Phillies and Mets are as a contender to reach the World Series. Believe me. Oh yeah, and Garret Anderson's the other reason. (Just kidding).
They say that rubbing is racing, but I'm guessing Danica Patrick doesn't want to hear any of it right now. Danica got bumped out of the Honda Grand Prix in St. Petersburg on Sunday by Rafael Matos. The two were coming down a tight stretch early in the race when Matos tried for a pass. He wound up bumping into Patrick and the bump caused the two of them to crash. This one seemed to be all on Matos if you ask me. Why not judge the video for yourself — skip straight to the 1:35 mark.
It's amazing how Patrick is always the headline regardless of what she does in a race. This time she was in the right and didn't even initiate the contact, but she'll probably be thought of as the "bad driver" because of her reputation as a hot-head. Her quote says it all: "It's not exactly the ideal spot to pass," she said. "We were going into the fast chicane there and there's no room, there's no room for two people. … I was looking in my mirrors and I saw him. He just wasn't all the way up next to me." That's exactly how it appeared to me. Their loss was Team Penske's gain as Ryan Briscoe got the win.
Normally I try to avoid stories about Rangers defenseman Sean Avery because the guy is such a tool. In general, I prefer not to a-holes like that publicity, regardless of what they're doing (unless it's about Elisha Cuthbert). That being said, after I saw the following video on Ballhype I felt no choice to post this so people could see exactly how much of a jerk Avery is. The Bruins beat the Rangers Sunday 1-0 to clinch the top seed in the Eastern Conference. Goalie Tim Thomas was on his game despite being smacked by Avery for no good reason. Let's roll the tape:
It's pretty clear that Avery did that intentionally. This is the same jackass that ruined the spirit of the game with his classless, annoying moves against Martin Brodeur in the playoffs last year. The NHL luckily was quick to respond in creating the "Sean Avery rule" to prevent those antics from ruining any more games. All they need to do is take one look at this tape to realize he should be suspended. There's a difference between being a pest and a jerk. This certainly falls under the "jerk" umbrella.
My favorite kind of trade in sports is the win-win deal. I love trades in general because they make things exciting, and the more teams get ripped off, the less inclined they are to deal. One of the best for instance, was the Red Sox/Marlins Josh Beckett and Mike Lowell for Hanley Ramirez and Anibal Sanchez trade. Boston got a World Series, Florida got potentially the best position player in the game. Win-win. I think the Jay Cutler to the Bears deal could be one of those win-win deals. The Broncos got the problem that is the whining baby of Jay Cutler off their hands. In return, they got back Kyle Orton who can be a serviceable starter for two years until they find someone they think will be the long-term solution. To try and find that long-term answer, they'll have four first-round picks over the next two drafts, plus an extra third rounder this year. Think about all the damage the Broncos can do with that. With two first-round picks in this year's draft alone, they can shore up their crappy defense with a top-notch lineman and maybe another cover guy.
While the Bears are giving up a lot, enough to allow the Broncos to conceivably rebuild nicely, they are getting a valuable commodity — a franchise quarterback. Jay Cutler's talent is undeniable — the guy has a cannon arm. I don't think he has the goods mentally to be a consistent winner and he threw too many questionable picks for my taste last year, but at least he has proven he can play at this level. The Bears are finally getting a quarterback they can be excited about, one they know can throw for 300-yards in a game. It's about time Chicago had a passing threat under center. I'm not saying that Cutler's the greatest, I'm just saying he's enough to get the city psyched up, much more so than Orton or Sex Grossman ever could.
While I do call the trade win-win, I could very easily see it being lose-lose. The Broncos could easily strike out with their four first-rounders over the next two years (only a GM like A.J. Smith would hit a grand slam). Cutler for all we know could have a mental meltdown, continue throwing interceptions, and demand to be traded after a year or two. That all remains to be seen. But for now, I think both teams came out ahead in the trade.
A few extra points on the trade: how bad does Jerry Jones now look for giving up a first, third, and fifth-round pick just for Roy Williams when almost the same package netted Cutler? Will Jason Campbell react to his name being thrown around in trade rumors the way Cutler did? (No, he's not that immature). And lastly, it bothers me that everyone keeps referring to Cutler as a Pro Bowl quarterback. Cutler was only there because the team starting off 3-0 with him setting the world on fire. Philip Rivers was the guy who should have been voted in to begin with, no doubt about it.
I thought for quite some time that the back injury that caused Allen Iverson to miss 16 games was just a case of bruised ego more than anything else. I felt that Iverson didn't know how to handle his benching so his only response was to disappear and cool off. Looks like my initial reaction was validated by A.I.'s comments following Wednesday night's game against the Nets. In his third game as the team's sixth man, the former MVP bitched about his role coming off the bench:
"I'm having a hard time doing it now. You think I will try to do it all over again? No way. I wouldn't do that to myself or the team that I am playing for. I don't think I can give everything I have to give in that situation."
…
Iverson doesn't want to retire; he says his love of the game has never been greater. "I want to be out there on the basketball court," he said, "but if (retiring) is something that I have to do, then so be it."
What disappoints me is that I bought into all the stuff Iverson told us about how much more mature and grown up he was and about how much he changed. I remember what he said in his introductory press conference with the Pistons, that he would do whatever the coaches and organization wanted as long as it helped the team. I bought into all that and began to like Iverson. Now I just feel like I was had and that The Answer betrayed me. Maybe retirement is the only solution to his problems because he's made each of the last two teams he was on worse, not better.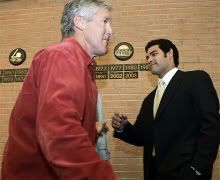 I gave Pete Carroll the benefit of the doubt the first time around when he strongly disagreed with Mark Sanchez's decision to leave school early for the NFL. I understood that Carroll was motivated by his desire to run a strong program and also his desire to see Sanchez develop more before going pro. I also speculated that the move could hurt Carroll in recruiting since recruits would see that Carroll doesn't always support their decisions. That must be the case because Carroll looked like Deion Sanders backpedaling off his initial comments when he spoke at Sanchez's pro day:
"He made a point to really go to bat for Sanchez," a scout said. "You could tell he meant it."

Carroll told the group that his public frosting of Sanchez — including the comment the player made a "bad choice" — was meant to test his resolve, to see if he truly had his heart set on turning pro right away or if he would waffle. Sanchez didn't waver.

"He told us, 'I challenged him. I wanted him to make the right decision,' " the scout said. "He said, 'I love the kid. I support him. I think he'll make a good pro.' "
If there isn't more of a b.s. line that the one where Carroll said he was testing Sanchez's resolve, I don't know what is. Carroll should have kept his feelings to himself from the start so as not to reflect poorly upon himself or Mark because he ended up making both look bad when he questioned the decision. Ultimately I don't think Sanchez's stock will be adversely impacted by the remarks. Clearly Carroll now realizes the error of his ways. That excuse was just too lame though — we could have done without it.
If I were voting for Rookie of the Year in the NBA, Derrick Rose would be my pick, hands down. He's delivered some nice structure to what was a mess of a roster and helped the Bulls get to nearly .500 and the playoffs. He's the real deal. But another rookie making some noise lately has been Kevin Love. Ever since Al Jefferson got hurt, Love's been starting and playing lots of minutes. In fact, post All-Star break, Love's been just about a 15 and 10 guy, which compares to someone like a Paul Millsap. I wouldn't come close to naming Love my ROY, but the Timberwolves' P.R. team is doing one heck of a job promoting his case. As I discovered via Ballhype, the staff came up with a clever Mr. Love Miracle Glass Cleaner campaign that is simply hilarious. Check out the promotional infomercial:
It's amazing what small but clever promotional gigs can do for a player's popularity. Take the Brandon Roy iPod and Chris Bosh's rodeo video as examples — both helped get each player into the All-Star game. Nothing wrong with using some creative tactics to promote guys who aren't getting much notice but deserve it. Excellent job by the T-Wolves with this one.
It seems like every time the Nuggets have a prime-time TNT Thursday night game Chris Andersen goes off. Thursday night against the Jazz was no exception. The Birdman had eight blocks in the game, solidifying his standing as one of the top shot blockers in the league (he's second to only Dwight Howard). But the Birdman channeled his inner Orlando Cabrera, who once called up to the official scorekeeper during a game to complain about being charged for an error, when he was interviewed after the ballgame. Check it out:
"Let me correct you right there, that's seven points." As if that wasn't enough, towards the end he made mention of Carmelo Anthony doing a good job of "Padding his stats." The Birdman was so concerned with his stat line that he even asked the official scorer how many blocks he had in the game at one point when he was walking to the Nuggets' bench. Normally I would say a player shouldn't be too concerned with any stat other than wins or losses, but if this is what keeps him motivated then I guess it's cool. Sorta.
Mobiright