Anyone not buying what the Kansas City Chiefs are selling yet?  With a convincing win over the 49ers to run their record to 3-0, we certainly are.  On Sunday, the Chiefs dominated a Niners team that nearly defeated the defending Super Bowl champions last week.
After Kansas City beat the Chargers Week 1, they got little to no credit.  What most saw when they watched the game was a Chargers team that made too many mistakes and a Chiefs team that "got lucky" with defense and special teams.  When Kansas City beat the Browns last week, no one cared because it was the Browns.  The Niners may be 0-3 but they aren't as bad as their record indicates.  The Chiefs put together a complete game against a good team on Sunday and they should be grabbing the attention of the rest of the AFC as a result.
What does a team need to do to be successful in the NFL?  Run the ball?  Check.  At the moment it looks like the Chiefs are going to benefit from having a two-headed monster in the backfield.  Thomas Jones had 95 rushing yards and a score against San Francisco and Jamaal Charles added 97 yards of his own on the ground.
Pass efficiently? Check.  Matt Cassel finally put together a game that's worthy of his paycheck.  He completed 16-of-27 passes for 250 yards and 3 touchdowns.  More importantly, he limited himself to just one turnover.  Despite throwing an interception, Cassel finished the game with a whopping 127.1 passer rating.
The Pittsburgh Steelers are completely waxing the Buccaneers right now, but if there has been one bright spot all day for Tampa Bay it has to be Kellen Winslow's one-handed catch.  Last week we were fortunate enough to see Randy Moss reel in touchdown pass with one hand, but Winslow's catch is a close second.  What makes the tight end's catch so impressive is that the ball was tipped and he somehow managed to stay with it and keep his feet in bounds while making one-handed catch.  You can check out video of Kellen Winslow's one-handed catch here.
We're big fans of freaky athletic plays here at LBS. Luckily for us, with like a hundred games being played on Saturdays, we generally get to see quite a few special plays be made. Brian Maddox's incredible hurdle for South Carolina certainly qualifies. The senior running back caught a pass and proceeded to jump over a defender, getting so high he kicked the Auburn guy in the head. Check out the Brian Maddox hurdle video:
Let's hope #22 didn't suffer any facial injuries after taking that cleat to the grill. Yikes.
LSU junior cornerback Patrick Peterson is one of the most exciting players in the country. Despite being robbed of a pick in the Bama/LSU game last year, Peterson has eight career INTs including two last weekend against Mississippi State. His dynamic ability led to the coaches also placing him in a special teams return role this year. The junior from Pompano Beach, Florida has already responded.
Peterson took a punt 60 yards to the house to make it 17-0 LSU against West Virginia in the second quarter Saturday night. What appeared to be a blowout in the making turned into a low-scoring game (they won 20-14), so the TD was huge for the Tigers. Peterson was well aware of his big play and decided to celebrate in the most recognizable way. Instead of getting caught in action like Denard Robinson last week, Peterson's Heisman pose was premeditated. That doesn't make it any bit less cool. Check it:
LSU's tried to spark a Patrick Peterson for the Heisman Trophy campaign, so there's nothing wrong with a little self promotion to help remind the voters. Sadly for Peterson, I don't think he'll become the first DB to win the Trophy since Charles Woodson did in 1997.
Photo Credit: Chris Graythen/Getty Images
The UCLA program appeared to be heading in the wrong direction under third year head coach Rick Neuheisel. The Bruins lost 31-22 in the opener at Kansas State, allowing Daniel Thomas to run for 234 yards and two touchdowns while Kevin Prince went 9 of 26 for 120 yards and two picks. Then there was the 35-0 disaster in the home opener against Stanford. UCLA was so bad they practically were inventing ways to lose the game. After that pathetic showing, I had completely given up on the season and was completely down on the coaching staff.
Two weeks later, it's redemption time.
The Bruins beat Houston for their first win last weekend, knocking both Houston quarterbacks out of the game. This week, they entered Saturday's game in Austin as 15-point underdogs to the 7th ranked Texas Longhorns. UCLA (particularly the defense) played like it had nothing to lose in a 34-12 upset win.
UCLA caused four turnovers and took advantage of them for 10 points. The big play was a muffed punt by Texas inside its five that set up an easy Bruins touchdown, giving UCLA a 7-3 lead. The Bruins went into halftime up 13-3 but it should have been much more. Not only did the defense stop a sleepwalking Texas team, but the running game pounded the Horns into oblivion.
The Bruins ran for 263 yards and three touchdowns. The pistol offense showed what it's capable of despite having zero passing threat (Kevin Prince was just 5-for-8 for 27 yards). Jonathan Franklin ran for 116 on 19 carries, Derrick Coleman added 94 yards on 16 carries, and even Kevin Prince ran for 48 yards. Texas and its vaunted run defense was somehow left helpless against UCLA.
Improbably, UCLA has now outscored Texas 100-15 in two games in Austin. The offense still needs a lot of work, the defense looks good, the Bruins are 2-2, and Rick Neuheisel has himself a signature win. Hopefully the Bruins will build upon this huge victory.
Chargers GM A.J. Smith may be called the "Lord of No Rings," but he caused left tackle Marcus McNeill to blink. The two-time Pro Bowler decided to sign his $630,000 tender and report to the team Saturday.
McNeill was seeking a long-term deal with the Chargers and even turned down a $3.168 million tender earlier in the off-season. Because he did not sign, the offer was reduced to that $630k figure. He'll be forced to sit out three games because he was placed on the roster exempt list but he still should be ready for the week six game at St. Louis.
Between McNeill and fellow holdout, wide receiver Vincent Jackson, it was always thought that the left tackle was closer to agreeing on a deal and playing for the team. However, as recently as this week, Chargers reporter Kevin Acee said he did not expect either player to play for the team the entire year. Apparently that all changed as McNeill decided he wanted to play football and make some money, even it's much less than what he wanted.
Now that he is with the team, perhaps GM A.J. Smith will be more open to offering the left tackle a long-term deal. McNeill will likely have to show he's back to top form before a new deal can be reached.
With the amount of comeback line drives that are hit in the direction of pitchers, it's amazing there are so few serious injuries.  Unfortunately, scares like this have become part of the game.  St. Louis Cardinals reliever Blake Hawksworth was taken to the hospital Saturday after he was drilled in the face with a line drive off the bat of Cubs outfielder Sam Fuld.  Hawksworth suffered severe lacerations to his face and lip but somehow seems to have avoided a concussion.  He walked off the field under his own power and will reportedly be kept overnight in the hospital.
The video is tough to watch, so I'd only check it out if you have the stomach to watch a baseball hitting someone in the face.  You can also see blood collecting pretty rapidly on his jersey right after he goes down.  Here's the Blake Hawksworth line drive to the face video:
Between this and Dan Mason's dislocated knee, it's been a pretty gruesome few days for the sports world.
Video Credit: YouTube user ggarro6
Giants broadcaster Jon Miller caused a stir when he said the Rockies stopped using humidor baseballs late in innings to give themselves an advantage if they were losing. Tim Lincecum apparently agrees.
The Giants ace was perfect through five innings at Coors Field and wound up going eight innings of two-hit ball for the win on Friday night. Colorado's only run came in the 6th, the same inning in which Lincecum complained about getting a juiced ball from the umpire.
After getting a ball from the umpire, Timmy threw it back, asking for a new ball. Then, he muttered to himself, "****in juiced ball bull****."
We don't know if the Rockies really were juicing their balls, but we do know that Lincecum isn't headed for the bullpen anytime soon despite what a scout said.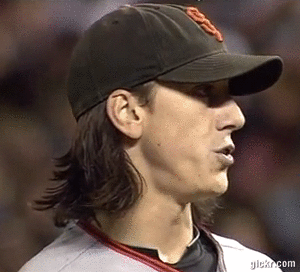 Arizona Diamondbacks third baseman Mark Reynolds went 0-for-3 on Friday night in a loss to the Dodgers and is now batting just .199 on the season. The notorious whiff king, who's already been fitted with a golden sombrero, is also on the verge of setting another embarrassing mark. On top of posting the three highest strikeout totals for a hitter in a single-season, Reynolds may be become the first player ever to have a higher strikeout total than batting average.
Yes it's true.
Nick Piecoro of The Arizona Republic cites baseball-reference saying that Reynolds can become the first non-pitcher to accomplish this dubious distinction, as Rotoworld shared with us. Reynolds started off the year strongly, cracking seven home runs and driving in 21 runs in April while posting a .909 OPS. Although the power numbers have been steady, Reynolds' batting average has been low each month since the start of the season.
Unfortunately for Mark and the Diamondbacks, it's just been a brutal September. Reynolds has slumped going 4-for-57 with only one RBI. The low average is to be expected, but as long as it comes with his usual dose of home runs it's somewhat excusable. But this slump is as bad as it gets and it now has Mark's average at .199. If he keeps it up, he could become the first player with at least 500 at-bats in a season to hit below .200 since Tom Tresh in 1968 (from what I can tell).
This season obviously being at the low end of things, would you want a guy like Reynolds on your team? Are his 30 home runs on average worth the 200 strikeouts and career .243 average? Is the power worth the whiffs?
Denard Robinson is easily one of the most exciting players in college football. With a choices of games to watch, I elected to park in front of the Michigan/Bowling Green even though I knew there were going to be other, more competitive games on TV. The chance to watch Robinson work was too good to pass up. Unfortunately, that period of entertainment was short-lived.
Robinson left the game late in the first quarter after hurting his knee following a 47-yard run. The Michigan quarterback was 4-for-4 with 60 yards passing and 129 yards on the ground before exiting. He had rushed for two scores and had his team up 14-0 when he left. On the first play of Michigan's third drive of the game, Robinson sprinted down the left sideline and had his right knee driven into the ground as he was tackled.
The injury did not appear to be serious, but backup Devin Gardner replaced Robinson on the very next play. Denard was off on the sidelines icing his knee and word is he will not return to the game. With the team up 21-0 early, the Wolverines felt comfortable sitting out their stud in an effort to avoid further injury. He'll likely be fine for next weekend's game against Indiana.