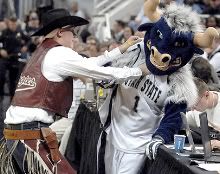 As you all have come to know pretty well, any time there's an incident involving mascots, it's going to end up here on LBS. Something about grown men being upset that they dress up in fury costumes for a living and taking it out by fighting must really pique my interest. The last college basketball mascot incident was when the Rice owl got ejected at a game for harassing a referee. This one was probably better than that. From The Sporting Blog:
During a timeout with 7 seconds left and New Mexico State leading 70-69, Utah State's mascot, "Big Blue" the bull, confronted New Mexico State's "Pistol Pete" cowboy mascot and ripped off his fake mustache. The cowboy then chased the bull to halfcourt, jumped on his back and tried unsuccessfully to pull him to the floor. "Pistol Pete" then started to try to choke his rival before retreating to his end of the court.

Several newspaper photographers covering the game said they heard a man in a Nevada shirt offer the Utah State mascot $100 to go grab the mustache.
ESPN does have a short video clip of the fight, but then you'd have to endure a segment of Michele LaFountain, something I try to avoid whenever possible. As for the fan that would pay $100 to see a mustache ripped off another mascot, he must hate 'em more than me. That's pretty funny.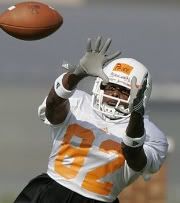 I do suppose that's better than butting your head against one. So actually, this is a true story that happened on the field, not off of it as a stupid stunt like some of you might be thinking. The Vols had actually just opened up a practice on Friday to the fans when something bad happened.
Wide receiver Ahmad Paige suffered an undisclosed neck injury when he ran into a brick wall in the corner of the end zone at Neyland Stadium late in the Volunteers' practice, silencing a crowd of about 2,000 fans.

Kiffin said Paige was able to talk and had movement in his arms and legs, but he was placed on a backboard and transported to a nearby emergency room as a precaution.
I think (and hope) that Paige is doing well. I guess when they said that people would run through a brick wall for Lane Kiffin, they weren't joking. By the way, end zones are starting to get pretty scary these days. And since we're on the subject of Lane Kiffin too, I'm starting to doubt his character more and more and think Al Davis isn't (as) crazy as we thought he was.
This is one of the more unusual stories I've heard lately. Josh Springer is a cheerleader at Ohio State, but he also played other sports in high school. Springer apparently decided to try out for the football team and made the squad, even though he's a junior. Ordinarily you wouldn't think a cheerleader could cross over into football, considering how tough the game is (especially at a monster program like Ohio State). But this Springer guy looks pretty stacked, and from what Busted Coverage said, he runs like a 4.4 40 or so. I guess this is like the new trend in the Big 10, considering what Indiana did allowing their team manager to play in a few basketball games this year.
I have no idea if Springer will ever play or see any action, but this is still a cool story for him. I can't even imagine what they hazing will be like when he steps into that locker room, yikes. And this certainly will fuel some barbs by the rest of the conference. Are you getting your jokes prepared, Michigan?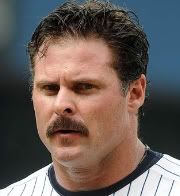 I know Jason Giambi and Brian Cashman won't ever mention the word, so I will — steroids. Jeff Pearlman has written a book about Roger Clemens called "The Rocket that Fell to Earth," and in that book there was a good anecdote about Yankees GM Brian Cashman and his thoughts on Jason Giambi, a free agent he signed to a 7-year $120 million deal prior to the '02 season. According to the NY Times:
The book said that when Giambi went through a slump in the 2002 season, his first with the Yankees, Cashman was heard yelling at a television in the Yankees' clubhouse during a game. Citing "one New York player," the book said that Cashman screamed, "Jason, whatever you were taking in Oakland," get back on it.

The book said that Cashman then added, "Please!"
Cashman denies ever making that statement while Pearlman says he has 100% confidence in the source that told him the story. I might have a question or two about this story because '02 was Giambi's only true excellent season with the Yanks. But I feel bad for Cashman in the sense that he paid for a guy whose productivity was achieved through false means. I think that GMs were in a tough spot to judge talent all throughout the era and that they got screwed over by players. If guys got their contracts because they were juicing and then later went off, they were selling teams a bum product. I can't blame a GM for wanting to see the player produce like he had before and therefore understand Cashman's predicament if this is a true story. Would it even be possible for teams to sue players who tested positive? I'd love to see the Angels recoup some of that Gary Matthews Jr. money without a doubt.
Thursday night's contest between UConn and Syracuse in the Big East tournament was one of the best conference tourney games of all-time — I have no doubt. I remember a great Baylor game (against Texas A&M?) that went three overtimes. This one went six. I was thinking to myself when they reviewed the play of Eric Devendorf hitting what would have been the game-winning three pointer at the buzzer in regulation that the fraction of a second his release was late shouldn't have been significant enough to disallow it. Almost like the argument that if you saw it with the naked eye you don't need replay for it. Well, the play was reviewed, he released the ball a hair late as you can see in this video, and the ball didn't lie as Syracuse went on to win it.
I think this is one of those games that you remember where you were when you watched it. I'm guessing lots of sports fans have a memory similar to mine in that they remember where they watched part of it, but it wasn't until much after the fact that they knew what they had been witnessing. For instance, I saw the beginning at work, the end of regulation at home, and the first two overtimes at the gym. After it went to the third overtime, I decided it was time to go from the cardio area where they have TVs at the gym to the weights area, figuring I would just find out the score later. Sure enough I had finished my whole routine only to return to the cardio area and see a big crowd of people huddled around the TV, with a "six" next to the letters, "OT." I was stunned. Literally shocked. With all of Syracuse's big men fouled out, I thought for sure UConn would take it. Boy was I wrong. And the clock didn't lie, giving Syracuse the win they deserved in regulation.
From what I understand (and it seems pretty obvious) the backers of the United Football League think there's enough demand in this country for professional football that a second league could be successful. I know NFL Europe was canceled for being a bust and that the USFL didn't make it, but maybe there's room for the UFL. From what I understand based on brief research, the USFL posed a strong threat to the NFL but their ultimate goal was to merge the leagues in order to profit on the increase in franchise values. Their lawsuit didn't work out and the league disbanded. So here's my question to you: would you care for a second professional football league in this country? (and I don't consider the Arena League competition). Should they compete using a fall schedule (and play on Thursdays and Fridays like they're scheduled to do), go up against baseball during the summer, or play during the fall and serve as a minor league-type operation for the NFL?
I think bringing in coaches like Dennis Green, Jim Haslett, and Jim Fassel for three of the four UFL franchises (Ted Cottrell is the other), provides instantaneous credibility to the league. That's enough to get my attention and make me think the league is for real. Imagine if they land someone like Michael Vick, too, how could we not pay attention? I don't know if it would work, but I believe a pro football league like the UFL could work during the summertime, competing with baseball and ending before the NFL season starts. Is there enough of a market out there for another league in addition to the NFL? Should they try to compete with the NFL's popularity or supplement them as a minor league system? Oh yeah, and if you haven't already, please locate Versus on your cable network because that will be your home for all UFL action.
Much like the Patriots 19-0, Super Bowl champs t-shirts, you probably figured those Kellogg's cereal boxes featuring Michael Phelps were headed to Central America as a result of Mikey's cheech and chong display. So what happened to all those boxes of cereal with Phelps' likeness plastered all over the front? They got cleared off the shelves and sent to food banks.
Kellogg's isn't actually saying that it dumped the cereal boxes on food banks – a spokesman for the cereal company did not return a call – but it is a logical conclusion.
…
The sudden appearance of about 3,800 pounds of flakes would indicate that someone was trying to dump some unwanted stock.
Apparently cereal is a high-scale item in demand at the food banks, so the product got cleaned out without a problem. Even making his best efforts to embarrass himself, Phelps still wound up doing a good deed and some charity. Who knew?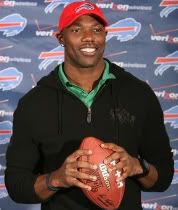 Forgive me for that lame reference — I just saw Wayne's World the other day for the first time in forever. Much like Jonathan Papelbon, one of the nice things about Terrell Owens is that he's accessible to the media for the most part. He did a station in Buffalo the favor of joining their radio show (Shredd and Ragan on WEDG). What does he get for that nice gesture? Scrutinized for his attitude in the interview. Sports Radio Interviews has the audio and even transcribed the interesting piece.
What did you think when your agent said Buffalo?

(7 second pause followed by TO repeating question, followed by four more seconds of dead air) "At that point in time I was just going up there to have a meeting and I thought that was just going to be the start of the process of trying to find me a team. From that standpoint, once I got there I was very excited with the coaching staff, I met with the head coach and one thing kind of just happened after another."
First of all, the pause wasn't seven seconds at the beginning, it was only a few. But if you listen to the audio you definitely get the sense that T.O. has an apathetic attitude towards being in Buffalo. Even when asked about his plans for touchdown celebrations he seemed disinterested. Maybe things happened so quickly that his head is spinning and he doesn't know what to say yet. Think about it — three days after the shocking news broke, he already had a new team. One that is the antithesis of glamor in the NFL. I guess you can't blame a guy from being down after being cut from a team he enjoyed to going to a team that hasn't seen excitement in over 10 years. If I had to sum up T.O.'s attitude to being in Buffalo based on this interview, I'd definitely say he seems apathetic. For Buffalo's sake, you have to hope that turns around come training camp.
(via Sports by Brooks)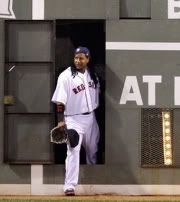 This is probably something a lot of people thought, and something the press and fans said, but it's another thing when a player says it. Then again, if any Boston player were to speak up about an issue, odds are it would be Jonathan Papelbon. Check out his description of Manny Ramirez and how Man-Ram single-handedly brought the Red Sox down:
Papelbon described Ramirez as a "cancer."

"It just takes one guy to bring an entire team down, and that's exactly what was happening," Papelbon told Esquire. "Once we saw that, we weren't afraid to get rid of him. It's like cancer. That's what he was. Cancer. He had to go. It (stunk), but that was the only scenario that was going to work. That was it for us."
…
The high-energy Sox closer said that he has no issue with anyone on the team being called out once they've crossed the line.
If there are any wonders as to why Manny was lingering on the free agent market for so long, I think Papelbon just answered the question. I hope Papelbon doesn't catch any flack for this comment considering it seems more than fair and appropriate. I also appreciate that Papelbon is unafraid to open his mouth and act like a fool sometimes, even if it makes him look bad. That is something that needed to be said.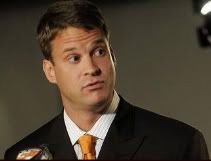 In the brief few months since Lane Kiffin became head coach at Tennessee, he's managed to offend Urban Meyer and Florida football … twice, piss off Nick Saban at Alabama, and take a shot at Steve Spurrier and South Carolina. At first I thought Kiffin's actions were kind of cool — he was trying to step into a down situation and re-energize it; he sought out the biggest dogs in the pack and picked a fight. I liked his moxie and his attitude. But now with this latest story on what he said to recruit Alshon Jeffrey, I'm starting to change my opinion of Lane. Here's Jeffrey explaining his story from the time he decided on attending South Carolina over Southern California and Tennessee:
Kiffin was equally dogged. But when it was obvious that Jeffrey wasn't going to Tennessee, Kiffin took off the gloves.

According to Jeffrey and Wilson, Kiffin told Jeffrey that if he chose the Gamecocks, he would end up pumping gas for the rest of his life like all the other players from that state who had gone to South Carolina.

Jeffrey was doing his best to stay awake at that point, but that comment from Kiffin woke him up. He clearly hasn't forgotten it, either.
Now that's just an unnecessary low blow. It's times like that where true colors and real character are revealed. I'm never one to use negative recruiting as part of my process; I'm all about showing off the positives of our place. Saying something like that can really touch a nerve considering how offensive it is to so many people. It also isn't the smartest thing to say to a kid who's already decided on a school. I'm starting to realize that maybe Kiffin doesn't have a filter and that's why he's saying as much as he is. Like I pointed out, he's writing some checks his team better be able to cash in the fall.
Mobiright