One of my buddies who's currently a student at UCLA's law school passed on a message to me Wednesday. He got straight to the point, wasting no time:
i just got the most obnoxious phone call
rick ****ing neuheisel
on a broadcast message …
talking about how great UCLA is for sports and academics
and how great the program is going to be
At first he found the message humorous, but after about a minute of the blathering he got annoyed and hung up since he's a Cal fan. And sure enough, sitting at home today, the phone rang and went to the answering machine. Who was it you ask? None other than Neuheisel with a recorded message expressing optimism about the football program, urging me to get season tickets. FanHouse's Brian Grummell picked up on this story yesterday, and passed on a link to Bruin Report Online where other UCLA people said they've received the call. Considering the fact that many of you have no connection to the UCLA family, here it is for your listening enjoyment. Though I can't stand recorded spam messages, I like the energy and enthusiasm the football program is now trying to generate. This is just the type of spark we need to revitalize interest in what's been a dead program.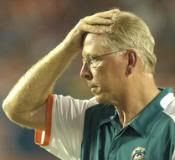 I thought it was a bad hire by Miami from the start. Cameron had no record as a head coach and was the offensive coordinator of a team that had LaDainian Tomlinson and Antonio Gates. If you can't succeed with those two, you're doing something wrong. On the other side of the coin, Cameron should have been pickier about choosing to go to Miami. I understand head coaching jobs in the NFL are difficult to come by, but sometimes you only get one shot, and if you go to a team that's a disaster, you could be done forever. That's why I don't understand Cam Cameron.
Had he remained in San Diego, not only would he have been in a better situation with much better personnel, but he might have even been promoted to head coach with the firing of Schottenheimer. Had he stayed in his offensive coordinator role in San Diego, he would've no doubt been just as hot of a coaching commodity this year as he was last year. Instead, he took a crap job with a team that was rebuilding and wound up going 1-15. Hello coordinator positions, bye bye head coaching spots. Do you think anyone is going to recycle Cam Cameron when looking for a head coach? Probably not. A guy like Jim Mora who would be a re-tread at least took the Falcons to the playoffs. Cameron went 1-15. I think his days are numbered.
Lesson be learned: no matter how much you want to become a head coach, being picky about what job you take is just as critical as how good of a coach you are. If you walk into a bad situation, your chance of succeeding goes down and that can ruin your reputation forever. Cam Cameron just found out the hard way.
I first saw this video on Monday at Deadspin but for some reason or another, I failed to post it. Maybe it's because I was at work at the time. That could be it. Anyway, considering the video is still applicable, and Bosh is one of my favorite NBA players, I must help his cause in posting the video here. Hey, every vote counts. Check out his sales pitch for a roster spot in the All-Star game:
No wonder the NBA had him trying to replace Gilbert as their primary blogger following Gil's injury. Clearly there's not a player who can stand up to Gil, but nobody can say that Chris Bosh doesn't have personality (not to mention ballerish game).
If you've watched college football the past few seasons, you have to be asking yourself that exact question right now. Is Bob Stoops no longer a big game coach? And what happened to Oklahoma? After getting smashed by West Virginia last night, Oklahoma is now 1-4 in their last five bowl games under Stoops. Don't get me wrong — the guy is still a marquee coach who I'd love to have leading my program — but why the losses to end the seasons?
The Sooners got beat by Boise State last year, throttled by West Virginia this year, crushed by USC in the Orange Bowl, and beat by LSU in the Sugar Bowl the previous year. The argument can be made that they've overachieved in the regular season — a tribute to Stoops' ability as a coach — and wound up in a mismatch come January. Only problem is that such reasoning doesn't suffice when you're matching up against Boise State and West Virginia who are traditionally inferior programs. So why, why I ask, did Oklahoma go for an onside kick in the 3rd quarter? They had the momentum after cutting the halftime deficit from 14 to 5 points but subsequently shortened the field for West Virginia who punched it in and regained momentum.
It seems to me that there were questionable play calls that fall on Stoops' shoulder which cost Oklahoma the game. So I ask you, is Bob Stoops no longer a big-game coach? Or is it mere coincidence (or poor timing) that they've lost their marquee bowl games recently?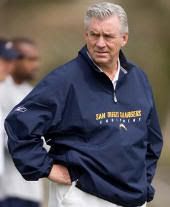 From potentially axed to now the GM with the most security in the NFL. The Chargers extended A.J. Smith for five years through 2014. I just don't seem to understand the timing of the move. Why would you lock him up long term (though I admit, I don't know how much of it is guaranteed), when your team was struggling at .500 only a month or so ago? I thought firing Schottenheimer was the right move as long as you replace him with someone better than Norv Turner. If the Chargers get bounced in the first round of the playoffs, or second round again, what good does it do them?
OK, I admit it — I'm just bitter because I was looking forward to Smith's firing following a disappointing season so Pete Carroll would make the leap to the pros. Now that Smith has the security, I can pretty much flush those plans down the drain. A.J. has an excellent record of drafting players including Shawne Merriman, Antonio Cromartie, and Marcus McNeill, not to mention signing Antonio Gates. But come on, hiring Norv Turner? That was a dumb move if you ask me. They'll make a playoff exit like they did last year and be stuck in disappointment. And for this, A.J. Smith gets rewarded. Makes me wonder what kind of legs Norv Turner will have.
Fire Rick Neuheisel website is already for sale [The Wizard of Odds]
The Top 10 sports blog stories of the year [Ballhype]
Maine high schooler is balling with only one hand [SPORTSbyBROOKS]
If Thom Brennaman did the play-by-play for D-Day [EDSBS]
Cowboy fans fight each other at a Skins game language NSFW [Mr. Irrelevant]
Sophia Bush looks great kicking off the new year in Miami [Just Jared]
Does anyone love T.O. more than T.O. loves T.O.? [Deadspin]
Remembering the horrible Baltimore Bullets [Scott Van Pelt Style]
Green Bay wants you to know Packer fans are great, topless [With Leather]
It was such a lovely story. The little engine that could. Hawaii was on a mission to repeat what Boise State had done the year before. Only problem, Boise State had already made everyone aware of the little guy; Georgia was having none of that. All those people who said Hawaii deserved a shot at the national title for going undefeated, what do you have to say now? From 12-0 to getting destroyed by a real team. It wasn't even funny. They looked like a JV squad out there against Georgia. They got their quarterback killed.
Let's just call Hawaii what they were — a nice story and good team that took advantage of a weak schedule. Sure, they managed to beat everyone they played (until now), which is more than what we can say for the Michigans and USCs that lost to inferior opponents, but that doesn't mean they've earned the right to compete with the big boys. One out of ten times they can pull an upset on a big-time team like Georgia, but the other 10, they'll get throttled as they did. Anyone watch the game? You see the disparity in talent? Colt Brennan couldn't even get to three in his snap count before he had a pack of Dawgs on his back. He got crushed. They couldn't protect him for crap. And boy, did you see the Hawaii defense (if you can call it that) attempt to stop the Georgia running game? What a joke. No wonder this team gave up 44 to the likes of Louisiana Tech.
So what's the point? Just keep this game in mind next time we have a small school run the table. They're great stories, but they really don't belong with the big boys just as Georgia proved.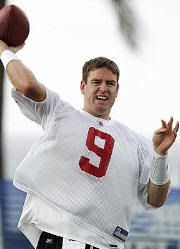 Thank goodness. As a long suffering fan, it's nice to hear a player share your thoughts. Carson Palmer is not one to shy away from an interview, nor a difficult question. He speaks his mind and does not back down from what he feels. And recently he talked to the Bengals official site and expressed his thoughts on the team:
Asked if he thought the same coaching staff could turn it from being stale, Palmer said, "I don't think so," but he also said he doesn't know if Lewis will make those changes.
…
"We need a lot of changes," said Palmer, who did respond to a question about discipline, a subject he has often discussed.

"When you look at the most successful teams in this league, they're very disciplined," Palmer said. "And we're obviously not one of the most successful teams. I don't think we're the most disciplined team and that's definitely an area we need to improve on."
Unfortunately, the changes to which Palmer was referring did not include Marvin Lewis. Lewis turned around the franchise but he did it by selling the team's soul. He went in for a Dennis Erickson-like fix and it wound up biting him in the ass. I've called Marvin out as an enabler in the past and would like to see him gone. Regardless of whether or not that happens, it's great to hear Carson unsatisfied with the way the the season went and harping on the issue of discipline. After all, it becomes hard to win (not to mention embarrassing) when your top weapons can't even make it on the field because of suspensions for off-field incidents.
Now that they have completed the feat and gone 16-0, everyone wants to say that the job is not finished — the work is undone. What difference does it make if the Patriots go 16-0 only to lose in the playoffs, people say. A only means something if B also happens they tell me. You know what? I'm not buying into that. Sure, if you're in the New England locker room, that's probably what they're saying and thinking. Good for them. Me, I'm independent of the locker room; I can judge the Patriots regardless of whether or not they reach their goal of winning the Super Bowl.
To me, going 16-0 is a greater feat than winning the Super Bowl. Before you jump on my case hear me out. Every single year there is a Super Bowl winner. It is an annual occurrence. You can lose six games in the regular season and still be the last man standing. You can be a six seed, get hot at the right time, and win a ring. Going through the regular season without losing however, is much more difficult. Only one other team in history has gone undefeated — the '72 Dolphins. The 2007 Patriots are the only team to go 16-0. I realize that their story could become a cautionary tale but you telling me the Patriots don't have a better place in history — regardless of the playoffs — than the '02 Bucs? You telling me Trent Dilfer's Ravens are a team of more significance than the '07 Patriots? Please.
Win or lose in January and February, I already hold the '07 Patriots in the highest regard. They've already accomplished more than any other team in history and already have their place in the record books. Their legacy has already been cemented and a Super Bowl victory would just serve as a nice bonus.
OK, so I promised some pictures from the trip, and I wasn't lying when I said I was going on a global growth project. First up is a short video compilation (well worth two minutes of your time). After the jump are a few pictures (not that you give a crap). Here's the vid:
Some pictures are after the jump …
Mobiright