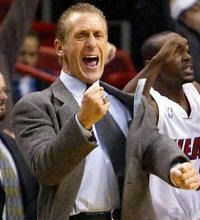 Much like most other people in the media, I love it when guys step out of the norm and get creative with their pre or post-game comments. That's why we love Gilbert Arenas so much — dude says stuff that's completely off the wall, like when he told us about his pube-shaving incident. Anyway, when the Miami Heat won Tuesday night breaking their 11-game losing streak, head coach Pat Riley could have settled for the typical "It's nice to finally get a win, hopefully this will set us in motion for the rest of the season so we can finish strong," or something to that effect. Instead, Riley delivered what was likely the top simile by a coach this year:
"I feel like a mosquito in a nudist colony," Riley added. "I know what to do. I just don't know where to start."
I've never even heard anything remotely similar to that line. Where does Riley come up with this crap? Damn, his team may be boring as all holy NBA putridness this year, but at least this dude is providing us with some entertainment. Oh, and Riles, for the record, head for the hottest chick first (not exactly sure how that translates in a locker room situation, however).
Apparently Kobe Bryant trains in a discipline called jeet kune do, which was developed by none other than Bruce Lee. In the video, Kobe says he's good enough to kick your ass, making you wonder why he even needed a bodyguard in the first place. Video evidence courtesy of none other than Elie Seckbach:
Jeet kune do is all about visualizing where your opponent will go next, and trying to beat him to the punch. Sounds like a pretty good practical application for playing basketball. I doubt it has much of an impact on Kobe's game, but it's still pretty cool. Hey, gotta figure if it works for Bruce Lee, it has to be pretty good, right?
(via Seattle PI)
Now don't get the wrong idea here and think for a second that I'm about to buy into the hype and start posting wonderful tales about Reds prospect Jay Bruce, who can supposedly hit home runs one-handed, and throw balls so hard the whizz makes girls skirts go up. No, I'm just a fan of baseball pranks, and this certainly was a good one. The Enquirer has the details:
Dunn's most elaborate prank happened Monday. Copies of the "Reds Report," with Bruce on the cover, arrived in the clubhouse.

The headline next to Bruce's photo was "The Next Big Thing."

Dunn had Bruce sign copies for a number of people, including manager Dusty Baker.

Dunn then made Bruce deliver the copy to Baker and ask him if he knew Bruce was the next big thing.

"He came in here all shy," Baker said. " 'It wasn't my idea. It really wasn't, Mr. Baker.' I said, 'Who's idea was it?'

" 'Adam Dunn.' "

"Dunn came by later. I asked him whose idea it was.

"Jay's all the way.'"
That's a solid prank right there. Most players are uneasy seeing publications with their names and mugs on the cover. So to personalize one for your manager? That really has to stink. I feel bad for the kid. Thought not as bad as I felt for Kyle Kendrick. That could go down as possibly the greatest prank ever, probably because it was documented on video. If you still haven't seen it, you must, just keep reading.
Talk about close calls you're happy you didn't have a do-over for. Come to find out that Mets manager Willie Randolph and hitting coach Rick Down both wanted the Mets to bring in the now infamous Brian McNamee. The two knew McNamee from their days with the Yanks and were about to bring the dude in as a batting practice pitcher. Yeah, crazy right? That pencil neck is nothing but a drug dealing trainer — why would they want him as a batting practice pitcher? Easy answer — Lo Duca was pushing for it. But that was the exact problem — McNamee had no direct qualifications to be a batting practice pitcher, something Omar Minaya recognized.
Omar apparently looked into Mac's background and decided not to bring the dude in. He was most likely scared away by the accusations of McNamee slipping some chick in Tampa a date rape, drug David Boston style. Besides that, Omar said he wasn't interested in bringing someone who's experience comes from working with individuals (a la Clemens and Pettitte) to a team environment. That's probably the PC answer. Down says he had no idea about McNamee's steroid ties. Sure thing buddy. We all know you were just trying to help Delgado revive his career.
So would you call Tony La Russa an enabler? La Russa was the A's manager back in their heyday when they had the Bash Brothers — McGwire and Jose Canseco. Doesn't get much more roidier than that, unless you're talking about the late 90s Rangers or something. Well Tony talked to the St. Louis Post Dispatch and passed along his thoughts on guys like McGwire, Clemens, and the looming speculation that both used performance-enhancing drugs:
La Russa maintained that both of them deserve a pass. "There's a certain amount of credit that should be given to a guy who's worked hours and hours to get stronger and bigger," he said.
…
"Wait a minute, Tony. You still don't believe McGwire used performance-enhancing drugs?"

"Absolutely not."

"Come on."

"Absolutely not," he said. "If you see Mark today, he still looks like he did then."
Yes, I agree that a lot of credit has to be given to guys who work their butts off and who care about getting better, but you don't have to cheat to do so. Also, let's not forget that these drugs are intended to make you recover quicker and workout longer and harder — they provide advantages. I'm guessing Tony just doesn't care about that. He's in a precarious position — he needs his players to perform otherwise he's out of a job. And what's he supposed to do if he sees his guys working out and working hard, tell them to take it easy? I'm not sure what the proper way is to handle the situation, but I do know one thing: Tony La Russa is the ultimate player's manager. Look at it — he's still backing Big Mac when nobody else is.
LeBron's close relationship with rapper Jay-Z has been well-chronicled. Jay-Z is a part owner of the group called Yankee-Nets, meaning he's a part owner of the New Jersey Nets. There's been talk about the Nets eventually moving from East Rutherford to Brooklyn even. Currently LeBron is signed with the Cavs through the '09-'10 season but he'll be a free agent after that, and his relationship with Jay-Z gives reason for Cavs fans to panic, says Adrian Wojnarowski at Yahoo! Sports.
LeBron doesn't want to just win titles. His stated wants include becoming sport's first billionaire athlete. Among his advisors, he counts Warren Buffet. Jay-Z has helped James focus his mind on chasing something bigger than basketball.
And whatever these grand dreams of LeBron are, the prevailing thought suggests LeBron would have a better shot at achieving them in New York rather than Cleveland. As you could probably tell in my Twins to keep Johan argument, I'm all for the "little guys" keeping their star players rather than New York teams getting a hold of them. I'm guessing a lot of his decision will have to do with the success of the team over the next few years. If he wins a ring in two years it would be hard to leave after a championship season. That's about the only chance Cleveland has — Cavs fans better start praying.
There were rumors that Pretty Boy was contemplating a future in MMA. That's no surprise considering the relationship he struck up with Mark Cuban who owns HDNet (and a little something called the Dallas Mavericks). Anyway, the offers from MMA must not have been enticing enough for PBF who's looking to score another big payday after raking in the dough from his fight with Oscar De La Hoya. And apparently Pretty Boy has spun the wheel of fortune and landed on wrestling.
Floyd is making his wrestling debut and will be paid $20 million for his fight against some dude named Big Show. Since I've never seen WWE, I had no idea who Show was. Now I understand the nickname — he's 7′ tall and weighs 430 lbs. That's a lotta man. While Pretty Boy is making his name as a shrewd businessman, this can't please boxing fans. Unfortunately when promising challengers like Paul Williams lose fights in Temecula, it doesn't really help the cause. About the only other claim boxing purists can make is that Mayweather should fight Miguel Cotto. Aside from that, there's really no gripe boxing fans can make. Pretty Boy can pretty much do anything he wants and we can't say anything about it. Though I do have to say, I'd much rather see the man in the boxing ring. He just doesn't have a whole lot to gain from it.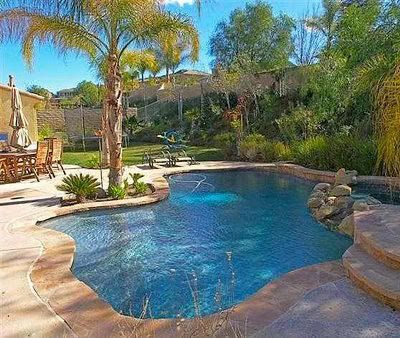 You can have the honor of purchasing Karl Dorrell's home [The Wizard of Odds]
CBS screws over Kentucky fans [Awful Announcing]
Tony Gonzalez isn't a fan of sluts [You Been Blinded]
Official Proof: Stephen A. Smith loves his cheese doodles [Deadspin]
Angels prank pitcher John Lackey [Obscure Sports Quarterly]
Oregon boosters rooting against Ducks to have Ernie Kent fired [Signal to Noise]
Good thing Shawne Merriman's a linebacker and not a quarterback [Mr. Irrelevant]
The sleeper teams this year in the National League [Baseball Mastermind]
Isiah Thomas is convinced the NBA is a small man's game [The Sporting Blog]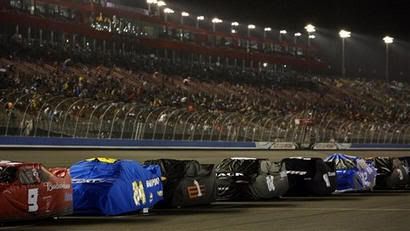 I'm not sure how many of you are race fans and know exactly what happened Sunday night. For those of you who aren't, let me fill you in. The Auto Club 500 was set to start Sunday afternoon in Fontana but was delayed over an hour because of rain. They finally got on the track while it was still slick, resulting in two incidents that saw the race come to an end for a few drivers. Then after 87 laps, the rain really started to come down so the red flag was dropped, and the tarps were thrown over the cars. At this point it was well into the evening on the East Coast, and certainly in the evening on the West Coast, where the race was being held — I'd say around 6pm PT. What ensued over the following five hours was maddening, if not downright embarrassing.

Scrambling to decide what would happen, FOX began airing re-runs of shows like the Simpsons and Family Guy on my local affiliate as they presumably tried to dry the track off in Fontana. At 9pm — midnight on the East Coast mind you — there was a cut in to the FOX studio at the track where they announced the race would resume in an hour, at 10pm PT, since the weather reports indicated the sky was clearing up. Great. With nearly two-thirds of the race incomplete, they would try to finish it up at 1am on the East Coast. A nice kick in the nuts for the die-hard fans out in the Carolinas and whatnot. Anyway, the news continued to get worse for the soldiers who braved the hour of anticipation.
It's really amazing the way time flies by. Seeing contracts that were once monster free agent signings expire really blows your mind. Can you believe Manny's ginormous deal is almost up? Before you know it, you're gonna wake up one day in Spring Training and see your squad bringing in Barry Zito for a tryout since his once enormous seven-year deal is up. Crazy. With that in mind, I must bring up Bartolo Colon. The reports over the weekend were that the Red Sox had signed Bartolo to a minor-league deal. Just what, four years ago, Colon was one of the hottest arms on the free agent market getting a big-time four-year deal from the Angels for just over $50 mil. These days that's what the Mariners practically paid for Carlos Silva.
So Colon sucked in his first year with the Angels. About the only thing he did right was stay healthy, making 34 starts for 208 innings (he didn't last very long in most of them). He still won 18 games, largely because the Angels hit for him. Same story in 2005, but Bart was much better that year and won the Cy Young (though Johan Santana was superior). '06 and '07 were lost causes because of injury, and Colon's dumbass didn't get surgery to repair his rotator cuff in the off-season and wound up being useless last year. Now what, four years later, dude is back on the market again, and the best he can do is lock down a minor league deal?
Mobiright