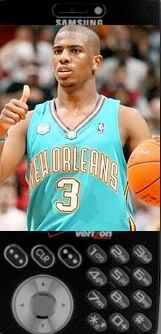 Hornets point guard Chris Paul returned from a 25 game absence on Monday night to help the Hornets beat the Mavericks 115-99. Since Paul was out nearly two months with his knee injury, he wasn't at full strength against Dallas. CP3 played just 21 minutes, finishing with 11 points and three assists. Paul apparently wanted more action than the coaching staff allowed him to play:
"I asked, 'Could I play more,' but they was like, 'No, no way,"' Paul said. "It was like I had a cell phone. At halftime, I kept telling the guys I only had 12 minutes left. That's all I had left on my daytime minutes."
Maybe Paul's angling for one of those T-Mobile commercials that air on TNT constantly. Even though CP3 played limited minutes, his presence was crucial for the Hornets who are now 22-17 when he plays and 12-21 without him. New Orleans also experimented with something that will be interesting to monitor the rest of the season: Paul and Darren Collison in the same backcourt. With his value high, the Hornets might be tempted to trade Collison in the offseason. First, they're going to see how the speedy point guard combo works. So far so good.
For the past three years, one of the NFL's power couples have been Reggie Bush and Kim Kardashian. Though most of the talk two years ago had to do with Kardashian planning on marriage, the couple has hit a rocky road recently. Kim K's schedule has apparently been busy due in large part to the taping of her popular TV show — Keeping Up with the Kardashians — while Reggie is out of town frequently because he plays for the Saints in New Orleans. Then there was the whole mess where Miami chick Carmen Ortega said she and Reggie were messing around. The latest reported issues between Bush and Kardashian comes courtesy of Radar Online:
The high-profile couple split temporarily last week, as Kardashian flew to Miami to shoot her sister's reality television show, while Bush spent time in New York, shooting a calendar. But sources say the separation could be more serious.
…
Bush was spotted at hip New York City nightspot 1Oak, at Robin Thicke's 33rd birthday party where "he was flirting up a storm," according to an onlooker. He spent the majority of the night with an unknown brunette and talked for an hour straight, said the source.
Uh oh, Reggie's been chatting up another chick! Alert the gossip rags! It seems more and more that their relationship is nothing other than for show. Then again, aren't most celebrity couples just that? It would probably do Bush's psyche well to be done with Kim so his dating life wouldn't be public business. While being with Kardashian raises Bush's profile off-the-field, the dude is still one of the most popular faces of the NFL and he's making $8 million from the Saints. Unlike Khloe's wifey, Bush doesn't need a Kardashian to be popular. He shouldn't sweat it.
Sources:
Kim Kardashian and Reggie Bush Headed For Splitsville, Again [Radar Online]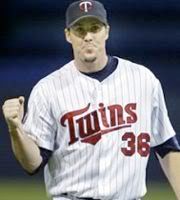 It's what Spring Training is all about.  Players testing out their arms and legs to make sure they are in their very best shape for the upcoming season. But for Minnesota Twins closer Joe Nathan, his season got shut down before it ever really got started.
Back on March 6th, Nathan left a spring training game early due to tightness in his right elbow. Sadly, that was the beginning of the end for the stellar closer.  Though Nathan was told by doctors to expect some problems following his minor surgery in October, the news was much worse. It turned out that Nathan had a torn ligament in his right elbow and would most likely need Tommy John surgery. This past weekend, Nathan and the Twins were looking for a miracle and had him try to throw again. The results were no different and he now will have surgery.
What I want to know is for a player like Nathan, why take the risk of injuring that elbow even more? Miracles are rare — very rare — and attempting to use that elbow in my opinion was just plain stupid; it was already injured. Doctors had already determined that he was going to need the Tommy John surgery. What made them think that playing catch a week later would have healed the tendons? The risk wasn't worth it because Nathan could have made it much, much worse.
It's a hard fact to face that you won't be able to play in the brand new stadium with the team considered the A.L. Central favorite and committed to winning, but it happens. Regardless Nathan's season is closed down. And I'm sure all the teams (besides the Twins) in the A.L. Central are happy to announce "He Gone."
Sources:
Nathan leaves with tightness in Elbow [MLB.com]
Minnesota Twins Lose Joe Nathan For the Season [Bleacher Report]
Kentucky coach John Calipari has made some strange comments to the media recently and I'm trying to figure what it's all about. Right before the SEC tournament, he said his team probably needed to win two games in the SEC tourney to be a number one seed in the Big Dance. Kentucky would have been 29-3 even with a first-round loss in the SEC tourney and a lock for a one seed along with Kansas and Syracuse. Calipari was downplaying his team's accomplishments and level of national respect, perhaps to keep his players motivated. Fast forward to Saturday night after Kentucky got done hammering Wake Forest by 30 points. The Wildcats were already a number one seed and picked to reach the championship game by most analysts. They were the second most popular pick to win the title behind Kansas. As soon as Kansas was upset by Northern Iowa, Kentucky became even more of a favorite than they already were. Not in Calipari's eyes. Check out what he said:
"I don't know if we're the overwhelming favorite. Everyone was picking us to lose today, be in a tough game. They were also saying we'd be the first number one [seed] out. So how do they change those talking heads overnight? With one game? Come on. We're still a bunch of freshmen and sophomores in our second NCAA tournament game, they've never played in any other games. All we're going to worry about is us."
I honestly don't know what planet he's inhabiting. Everywhere I've looked people have been in agreement — it was Kansas and Kentucky and everyone else at least a step below. I don't know of anyone picking Kentucky to be eliminated in the second round; most people had them in the championship game from what I could tell. I don't know if there are some talking heads disparaging Kentucky to whom Calipari has something to prove or if the guy is just being really crafty and playing mind games. Most likely, he's trying to keep himself and his players from believing their press clippings and hype so that they maintain their edge. The guy has me scratching my head right now, but if this is part of his strategy to keep his players hungry and operating in an underdog role, then more power to him. In the meantime, I'm trying to figure it all out.
Tiger Woods spent 600 seconds Sunday taping interviews. Though each interviewer was afforded limited time, they each tried to ask Tiger some of the questions many of us wanted to have answered. I thought Tom Rinaldi was more direct and stepped in more frequently to keep Tiger on the path and that he caught Tiger in an unprepared moment — one where Tiger admitted he wanted people to cheer for him. Kelly Tilghman of The Golf Channel asked many similar questions and received many similar, scripted answers. The difference to me was that she didn't follow up as well as Rinaldi, and she also threw out there the biggest softball question of all: Tilghman asked Tiger about a certain bracelet on his wrist. Tiger seized the opportunity to emphasize how he had found religion. In his case, Buddha. Here's a picture of Tiger Woods' Buddhist bracelet:
Tiger explained that the bracelet is Buddhist and it's for protection and strength. He says he will be wearing it the rest of his life. If that's the case then I think it's a great time for Tiger's marketing team to see how well the guy still sells. Maybe Tiger's Buddhist bracelet can catch on the way Lance Armstrong Livestrong band did.
Photo Credit: Deadspin, where Daulerio thought Tilghman tossed up better softballs. That's surprising to read, considering they clearly saw her ask him about the bracelet. What a joke.
ESPN must have been proud to land the first interview with Tiger Woods since he went from being famous to infamous. That was probably until they learned that The Golf Channel also landed an exclusive. So why the interview rush all of a sudden? My guess is that Tiger's team finally wised up and realized the best way to defend himself in the face of all his mistresses coming out and releasing embarrassing information is for Tiger to talk publicly. They did that by scheduling these two interviews shortly after the Joslyn James sext messages were released on Thursday. As for the actual interviews, Tom Rinaldi did a good job hitting Tiger with all the right questions. Kelly Tilghman of The Golf Channel totally softballed all of hers. I'll explain more but first watch the Tom Rinaldi ESPN Tiger Woods interview video:
Tiger took the first question and started filibustering, wasting no time explaining how he's found religion. As soon as Rinaldi got the floor back, he went immediately into the Thanksgiving incident. Obviously Tiger allowed no leeway there despite being pressed twice and used a smart line that his team must have crafted "It's all in the police report, it's all public information." When asked about issuing a public apology, Tiger explained why he did it by saying he wanted to apologize to the people who thought differently about him. He essentially admitted that he owed them an apology for what he did which is how I felt.
Tiger did a good job avoiding tough questions by answering with scripted lines throughout the interview. Rinaldi followed with another question I've been dying to have answered: for what was Tiger in treatment? Once again, Tiger said it's a private issue. As Tiger went off on a tangent, Rinaldi brought him back once again asking who the person was that Tiger had turned into. Tiger of course didn't answer but went back to his "I got away from my core values" explanation. He asked Tiger about the anticipated reception from the crowd and got Tiger to admit that he would want some cheers. Tiger even had to explain what it was like facing his mom and wife after all the info came out. Then, Rinaldi asked a question many people rightfully wanted an answer for: why did Tiger get married? Tiger must have known that question was coming because he answered quickly and swiftly.
In the end, Tiger did not answer much and he controlled the environment like usual. Nonetheless, I'm pleased he finally showed his face and answered questions difficult questions. It's not as if he revealed personal details — he had the tough stuff scripted — so why didn't he do this a long time ago? It would have gone a long way towards stopping the bleeding, like when he made more consecutive covers of the NY Post than 9/11 did because he was in hiding. Give it six months and everyone will love Tiger again. Book it.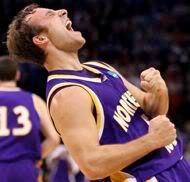 While half of America and everyone in Lawrence is still trying to figure out if Kansas really lost on Saturday, a caller on my radio show made an excellent point that I had overlooked: Northern Iowa should have never been playing Kansas. At least not in the second round. When the brackets were first released on Selection Sunday, my immediate observations were that Kansas got screwed being placed in a ridiculously difficult Midwest bracket, Kentucky's East bracket was also tough, and that Duke lucked out with the easiest draw of all. I was so consumed with complaining about Kansas' bad draw (the toughest two seed in Ohio State, what I thought was one of the toughest threes in Georgetown, difficult fours and fives in Maryland and Michigan State, the best six seed in Tennessee, and a team that already beat them in Oklahoma State at seven), that I totally ignored how under-seeded Northern Iowa was.
Northern Iowa was 28-4 entering the tournament and they had spent almost the entire season in the Top 25. Even knocking them down a few pegs for the lack of difficult competition on their schedule, you figure they'd be a six seed in the tournament — seven at the lowest. Instead, the Panthers got dogged as a nine, four seeds lower than Butler who had an identical record (but much more difficult non-conference schedule). While Notre Dame went from being a bubble squad to a six seed, teams like Northern Iowa got dropped by the committee. For all the complaining I did about Kansas' difficult draw, the one team I ignored was Northern Iowa. Perhaps they were the most under-seeded team in the tournament. We knew they were a solid team the entire season and they proved they were even more than that this weekend in Oklahoma City. And with Kalin Lucas out for Michigan State, they even have a legitimate shot at the Elite Eight.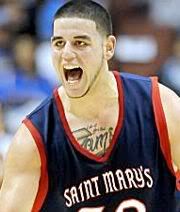 St. Mary's center Omar Samhan has proven himself to be one of the biggest difference-makers in the tournament. He also has the coolest name this side of Ali Farokhmanesh, but that's a story for a different day. Today's story is about Samhan's mom, Marianne Black-Samhan, and how she had more confidence in St. Mary's than any of the players did.
Omar shared a story after St. Mary's second-round win over Villanova, of his mom who bought plane tickets to Houston as soon as the brackets were released on Selection Sunday. Houston was the location of the regional semis and finals for the South Regional, not the first and second round games in Providence, Rhode Island where St. Mary's spent their first weekend. As St. Mary's spent their first two games struggling to beat Richmond and Villanova, Samhan's mom was making dinner plans in Houston for when the Gaels won their games.
I'm actually exaggerating about the dinner plans, but Omar joked after the Nova win that the team really did get its confidence from his mom. I'm guessing Marianne saw St. Mary's' matchups against Richmond and Villanova and knew neither team had the size to contend with her son; Omar Samhan has averaged 30.5 points and 9.5 rebounds in the Gaels' two tournament wins. No doubt Baylor will have their hands full with Samhan on Friday. The Bears will likely call on John Lomers to counter. Good luck with that.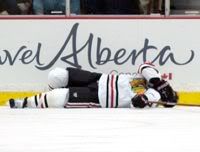 The last couple weeks, NHL players seem to be hitting each other harder and harder. In some cases, like the hit laid on Chicago Blackhawk Brent Seabrook by James Wisniewski a few nights ago, they are literally knocking players out cold. But what's with all the hard hits lately fellas? I might know the answer.
The Stanley Cup Playoffs are a few weeks away and the pressure is on. I don't know exactly what is going through the mind of players like Wisniewski. I don't know if he intentionally tried to lay Seabrook out like a sack of potatoes or if he was "in the moment" and feeling aggressive. But Seabrook isn't the only hit that's been like this lately. There's also his teammate Brian Campbell (who is now out for the season) and Boston Bruins Marc Savard who was knocked out a couple weeks back. These hits are proof that the players aren't messing around and they will be as aggressive as they have to so that they can be the ones hoisting up the Stanley Cup in just a few weeks time.
Although I'm all for being aggressive, I think these guys need to be smart about it. When you are headed towards another player and you're ready to hit him with all you can, remember that you can injure yourself in the process, too. If these NHL players keep making these reckless hits they are not only going to injure their opponent but themselves as well, and then picking up that Stanley Cup will be a difficult task when you have a broken arm.
Kelvin Sampson was fired unceremoniously by Indiana two years ago for committing several recruiting violations, the same issue that got him into trouble at Oklahoma. The Hoosiers started out the '05-'06 season promisingly, going 17-1 and ultimately 22-4 before losing in the first round of the NCAA tournament. Many of the IU players were upset that Sampson was fired and they were further angered when assistant Dan Dakich was appointed the interim coach. Several players stopped attending class during that tumultuous time and a few of them were kicked off the team (reports of drug and grade issues also could have contributed to the departures).
Armon Bassett was one of those players and he eventually transferred to UAB — former IU coach Mike Davis' new school — before ultimately deciding on Ohio. Bassett led Ohio to the MAC tourney championship and the Bobcats to an upset win over Georgetown in the first-round of this year's tournament, scoring 32 in the game. Xavier star player Jordan Crawford, best known for not dunking on LeBron James, was another player caught up in the Sampson mess. A freshman at the time, Crawford wasn't too fond of Tom Crean's new regime, so he decided to transfer to Xavier. Crawford's averaged 20 points per game in his first year at Xavier and put up 28 in their first round win over Minnesota. While I recognized Armon Bassett's name from the '08 IU team, I have to thank my uncle for pointing out that Crawford was on that team too. Clearly that Indiana team had talent, but that's not even where Sampson's ties end!