Commissioner Bud Selig was on hand for the opening of Target Field in Minnesota Monday where the Twins hosted the Red Sox. He spent some time in ESPN's broadcast booth to talk about many of the issues facing the game. Selig discussed the League's drug testing policy, MLB's efforts to get more African-Americans playing the game, the plight of small market teams, and the issue of playing the World Series in November, amongst others. I could do a separate post on each issue in baseball but I'll stick to the possibility of MLB expanding the playoffs for this one. Here's how the conversation went between play-by-play man Dan Schulman and commissioner Bud Selig in the bottom of the second inning:
Schulman: "Do you see any change in the playoff format? Do you ever see another Wild Card team?"

Selig: "Well, I remember all the abuse I took about the Wild Card to begin with and now everybody wants more. I would like to see more. You know we only have eight out of 30 — the least number of any sport — we have the most direct playoff system. It's something we're going to consider. In some ways I like it, in some ways I don't. It's very attractive."
Mr. Selig, for all the complaints I have about baseball (the W.S. ending in November, the strong correlation between high payroll and long-term success, instant replay), the playoffs is where baseball has it almost perfect. I am a champion and proponent of systems that highly reward strong play during the regular season as MLB's currently does. Four teams out of 16 in each league works perfectly for me. Just having the Wild Card in addition to division races means many teams are still involved in a playoff race the entire season and that keeps fan excitement up. The only playoff change I would want is expanding the Divisional Series to best of seven, not five. I hope that will be addressed in the upcoming collective bargaining negotiations. But please, please, please don't expand the amount of Wild Cards — the playoff system is excellent as is.
It's been quite some time since we've mentioned, much less heard from, Michelle Wie. Two years ago we found out that she was dating fellow Stanford athlete Robin Lopez who has moved onto the NBA. I don't know if the two are still dating but I do know that Robin wouldn't be too happy with the latest Michelle Wie bikini pictures that have emerged courtesy of Radar Online via Deadspin.
After bursting onto the scene and creating controversies everywhere she went, Wie sure has been laying low lately. Hopefully she's been working on her game so she can dominate the greens in future tournaments.
Sources:
Michelle Wie Bikini Photos [Radar Online]
Michelle Wie Shows Off Her Less-Clothed Side [Deadspin]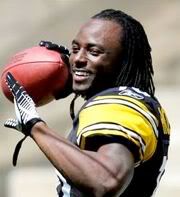 The New York Jets have had a busy off-season so far.  They're already signed on to be featured in the HBO original series Hard Knocks, so the new faces that will be joining them in training camp will serve as more than simple additions to their football team.  With the questionable characters they have added so far this off-season, New York might not have even needed to pair up with HBO to give their preparation period a reality show feel.  The Jets traded a fifth round pick to the Pittsburgh Steelers on Sunday in exchange for Super Bowl 43 MVP Santonio Holmes.  Holmes' services won't be available immediately, however, as he has been suspended four games for violating the NFL's substance abuse policy
Holmes joins Antonio Cromartie, who has in the past admitted that having seven kids in five different states can be distracting to his NFL career, as the second player with off-the-field issues to join the Jets in the last two months.  While it'd be tough to argue that New York is not a more talented team with these two on its roster, I can't help but think that Rex Ryan is quickly creating a recipe for disaster heading into the 2010 season.  Ryan has enough problems keeping his own name out of the headlines and behaving like a big boy, as he proved to us at an MMA event back in January where a fan caught him on camera giving Dolphins fans the bird.  The mix of characters on this team is going to be worth watching in itself for non-Jets fans.  For the J-E-T-S Jets, Jets, Jets faithful, its going to be a complete hit or miss.
Sources:
Steelers ship Santonio to the Jets [Pro Football Talk]
NFL to Announce 4-Game Suspension of Holmes [USA Today]
And through the woods, to grandmother's …. never mind. Despite all the eagles and brilliant shots recorded throughout the week and weekend at the 2010 Masters in Augusta, Phil Mickelson's shot on 13 in the final round was arguably the best of all. In so many ways, that shot was emblematic of Mickelson's personality on the course: he's daring. Mickelson takes the chances most other golfers won't. Many times it hurts him as it did at the U.S. Open in 2006 at Winged Foot but this time the risk paid off. Here's arguably the shot of the 2010 Masters, Phil Mickelson hitting between trees and over the water on 13:
Phil being Phil of course missed the easy putt and wound up with a birdie instead of an eagle, but the shot helped him extend his lead over Lee Westwood. Mickelson said after the tournament that going for the shot wasn't a question; the only issue for him was which iron to use, a five or a six. I guess that's just what Phil does and you can argue that the chances he takes help him shoot under par and make up strokes. Even though it worked out for Phil this time, I still say it was a dangerous shot and the wrong move. What if that winds up in the water? Then aren't we talking about another idiotic Mickelson moment resulting in a blown major? We're results oriented so most people will say it was the right move because it paid off. I remain consistent in my thoughts and I still feel the shot was too risky and therefore the wrong move. Either way it worked out for Phil and he now has his third green jacket. Congratulations to Mickelson on the win.
Finally, somebody gave Matt Cooke what he had coming. In case you haven't heard of Cooke, he's one of, if not the most, notoriously dirty players in the NHL. To make matters worse, he's got the reputation of a guy who will do everything he can to avoid dropping the gloves and squaring off face-to-face with someone. His most recent cheap shot victim, Bruins' forward Marc Savard, is still experiencing headaches from the concussion Cooke gave him last month on a dirty hit. On Saturday night, karma caught up to Cooke in the form of Thrashers center Evander Kane. Here's a video of the Evander Kane/Matt Cooke fight:
The irony of this whole situation is that we just learned the exact reason why Cooke doesn't fight. I've seen plenty of hockey fights that end with a clear-cut winner, but I can't remember the last time I saw someone get knocked out cold from one punch. The best part is Kane's only 18-years-old and Cooke clearly went after him, instigating the fight, only to get laid out. Seems like every time the stretcher comes out on the ice in a Penguins game Cooke's on the embarrassing end of things. You never want to see it, but at least for a change he was the player lying on his back when it happened. I don't know how many fans Kane had before but he definitely has a ton more now.
Joe Torre is a friendly guy, great with the media, and he stars in hilarious State Farm commercials. He's also extremely overrated and at least partially responsible for the Dodgers 2-4 start to the season because of bullpen mismanagement. Because a manager doesn't pitch, run, field, or hit for the players, they shouldn't be given too much credit for what a team does or doesn't do. Torre gets tons of credit for his success with the Yankees when every other manager could have sat there and watched those teams win World Series titles. David Wells has even shared the same sentiment that Torre wasn't anything special. Joe also gets credit for the Dodgers making the NLCS the last two years. Nothing is said about the Dodgers being average his first year until they got Manny. To me, a manager's job is to put his team in the best position for success. Batting A-Rod 8th in the playoffs and Matt Kemp 7th doesn't put his team in a good position for success. Neither does what Torre did the first week of the season managing the Dodgers bullpen.
The Dodgers blew a 6-4 lead in the 9th on Saturday night while closer Jonathan Broxton watched from the bullpen. Broxton was unavailable Saturday night because he pitched back-to-back days on Thursday and Friday. Sure, George Sherrill's an excellent option to close out games and was a stud with the Dodgers last year, but he struggled in spring and there's really no debate that Broxton's the team's number one option to close out games. Sherrill gave up three runs while getting just one out to blow the save (the first run was charged to Ramon Troncoso). Now let's go back to why Broxton was unavailable on Saturday to close what could have been the Dodgers' third win of the year.
Broxton worked the 9th in a 10-2 Dodgers blowout on Thursday. Broxton hadn't pitched since Spring Training because of some mismanagement on Wednesday and that's why Torre felt the need to pitch him in the blowout. On Friday, the Dodgers led 7-1 in the 9th and Russ Ortiz came on to close out the win for Hiroki Kuroda. Ortiz got one out while loading the bases and Torre pulled him for Broxton. The Dodgers were leading 7-1 at that point and needed just two outs. Broxton got them but that made him unavailable to pitch on Saturday — a game the bullpen blew. True Blue LA also points out that Torre didn't even use Broxton on Wednesday against the Pirates in a tie game. Instead, he used Troncoso in the 9th and Ramon Ortiz (who blew the game) in the 10th while saving Broxton for a save chance that never came. I've never understood the logic behind throwing one of your worst pitchers out there to potentially lose the game while a much better pitcher waits only to close out a potential win. It doesn't make sense to me and it really burned the Dodgers. This first week of the season for the Dodgers has been an example of classic bullpen mismanagement by Joe Torre.
The Florida Marlins opened up the season taking two of three from the Mets in Flushing. It wasn't until Friday night that they debuted in front of their home crowd in Miami against the Dodgers. Florida took two of three in that series as well, taking advantage of some Dodgers bullpen mismanagement. That's not the concern here however. What is of concern is a little matter of at-bat music — the song that plays throughout the stadium as a player approaches the batters box to hit. As my co-worker Marcas Grant pointed out to me, the Dodgers announcers were having a ball joking about Cameron Maybin's at-bat song which happens to be Miley Cyrus' "Party in the USA." The Palm Beach Post actually had an inkling that the song would turn some heads before the season began.
Pitcher Chris Volstad told them, "[The song] goes against that grain a little bit but I think more people will like it than won't like it. It's one of those popular catchy songs people like. It's hardly the motivating-type song but maybe it puts him a good mood.''
Either Maybin's going to have to change up his song or wear some headphones at all times because he screwed up pretty badly on Sunday. Not only did Maybin misplay a ball in center field leading to the Dodgers first two runs but he also got picked off first base by pitcher Charlie Haeger. If he keeps playing that way there won't be much more Miley Cyrus around Sun Life Stadium and that would just be a shame for everyone. Just for kicks because we kind of have to at this point, here's the hit song:
Sources:
Florida Marlins walk-up hit: Cameron Maybin ready to "Party in the USA" [The Palm Beach Post]
The Toledo Walleye are in their first year of existence as a minor league hockey team in the ECHL. They're affiliated with the Blackhawks and Red Wings of the NHL and apparently their fans have taken a cue from one of their parent franchises. Instead of chucking octopuses on the ice like the fans of Detroit have done, the fans of the Toledo Walleye actually toss a Walleye (catfish looking fish) onto the ice after goals. Here's a news package on the matter from FOX Toledo and keep your eye out for one of LBS' most famous commenters towards the end:
I dunno Spin, I kind of like the guy who rocks the air guitar with the walleye but kissing it isn't bad. In case you're wondering about the history of throwing an octopus on the ice, we've explored that topic in the past.
It's been mentioned in several holy scriptures that thou shall not take the Lord's name in vain. Is Tiger Woods exempt from this rule because Tiger's a devout Buddhist? After all, listen to him get pissed off after a poor shot on the sixth hole Saturday in the third round of the Masters:
I'm guessing anyone who's screwed up in sports has had a similar reaction to Tiger but now that he's a Buddhist, maybe the God Squadders won't be able to criticize him.
Sources:
Tiger Woods Outburst at the Masters (Video) [The Big Lead]
That didn't take long. Two weeks after proclaiming himself baseball's bad guy, Milton Bradley had his first "incident" as a Seattle Mariner. The upside is that he didn't direct his anger towards any broadcasters or umpires this time. The bad news is he decided to get pissed at the fans and his actions were caught on TV. Check out this picture of Milton Bradley flipping off Rangers fans giving them the middle finger (uncensored version below):
My man Todd Wright who precedes my show on Sporting News Radio mentioned the story of Milton's middle finger after he was tipped off by Evan Grant's blog post on The Dallas Morning News site. Turns out that the answer to Grant's question was yes, Bradley did indeed flip off the fans. I'm sure a fine and possibly a suspension will be forthcoming. And it looks like option D from the how long will Milton Bradley last in Seattle pool might be your winner. Uncensored version of the photo below.