Nike released a new ad featuring Tiger Woods and the voice of his late father, Earl Woods. It might be just me but I don't know exactly what the point of this is or what it does for the company. Here's the a video of the new Nike Tiger Woods ad featuring his father Earl Woods:
Um, OK so is Nike trying to remind people about Tigers' "indiscretions"? If I were them I would think that I would want to move past it and make people focus on the here and now rather than the drama of a few months ago. I also find it really creepy that they are using his late father's voice for this ad. Earl Woods died in 2006 and this ad has got some eerie "beyond the grave" type feel to it and it just really gives me a chill in my spine when I watch.
So with Tiger officially carrying the Nike torch, I wonder what their next move will be after this creepy campaign. Maybe they'll be changing their slogan from "Just do it" to "Keep it in your pants."
It was only a month ago that the Cavaliers set the Guinness World Record for largest gathering of people wearing fleece blankets thanks to a snuggie giveaway at a home game. The Angels saw what the Cavs did and thought pretty logically — we have a larger stadium capacity so we can easily blow that record away and grab some pub in the process. They did just that on the second day of the season, having their fans slip on a Hideki Matsui #55 Angels snuggie in the 5th inning of their game with the Twins. Here's what it looks like when 43,510 fans slip on a red fleece blanket aka snuggie:
And here are a few close-ups via jennydaws and tekkenazo:
The Angels lost to the Twins 5-3 to even up the series and they got what they deserved for running a cheesy promo. My guess is some college football team comes along and blows them all away this fall. Just what we need, 106,000 maize snuggies at The Big House. Yikes.
Sources:
Angels easily cover blanket record [Angels.MLB.com]
Photo Credit: Getty Images
With Tiger Woods returning to competitive golf this week despite the recent revelations of his extramarital affairs, it got me thinking about other notorious spouse cheaters in sports. If we were to turn our backs on all the athletes who have cheated on their wives, who would we have left? If we were to shun every athlete who has ever done anything distasteful, then our Hall of Fames would be practically empty. Moreover, it's amazing that some of the finest athletes in their sports dominated despite drama-filled lives. Today, let's take a walk through The Sports Adulterers Hall of Fame and remember that what an athlete does in their personal life doesn't necessarily impact their game.
Tiger Woods: He has returned to the golf world despite all the drama surrounding him and his family. Tiger was scrutinized for his multiple "indiscretions" and rumors swirled that he had even impregnated one of his mistresses a couple of times. Tiger has won 71 PGA Tour events, and 14 Majors to which he is second only to Jack Nicklaus. But beyond his honors and trophies, Tiger's brilliance resulted in an explosion in popularity of the game which itsel has been an amazing achievement.
I mean that in the most literal sense possible. UCLA athletic director Dan Guerrero doubles as the NCAA Selection Committee Chairman and he was the one who handed Duke and their coach Mike Krzyzewski the championship trophy for winning the NCAA tournament. See:
As commenter J.S. has pointed out, the NCAA tournament doesn't necessarily yield the best team in the country but rather the tournament champion. I still believe Kansas and Kentucky were the two top teams in the country and that they would have met in a championship had there been a double-elimination format or seven game series. Both those teams made early exits from the tourney and now we recognize Duke as the national champion for the fourth time. Moreover, coach Mike Krzyzewski is now in a class with Adolph Rupp and John Wooden as the only coaches with more than three titles (Wooden has 10, Rupp four).
One of the most discussed moments of the 2010 NCAA tournament was not even a basketball play. During the Duke/West Virginia Final Four game, Mountaineers senior winger Da'Sean Butler slashed to the hoop on a drive but banged knees with Duke monster center Brian Zoubek. Butler dropped to the floor immediately, writhing and screaming in pain; doctor's later determined he tore his ACL and sprained his MCL. The significant moment came when coach Bob Huggins consoled Butler in a loving father/son way that emotionally touched most viewers. In a halftime interview on CBS during the championship game, Butler explained what was said during that moment:
Butler shared some of the most touching words I've heard come from a collegiate basketball player (transcription below in case you can't watch). Think about what kind of character and heart Butler has to apologize to his coach during a painful and agonizing moment. I'm struck by Butler's selfless and inspiring attitude. In an age of one-and-dones, Da'Sean Butler serves as a perfect example of players doing things the right way. Butler stayed in school all four years and emerged as a true leader both on and off the floor. He hit game-winning shots in two of three games in the Big East tournament and helped West Virginia knock off Kentucky in the Elite Eight with a strong three-point shooting night. With the type of team-first attitude and high character Butler displayed, I'm confident his knee injury won't keep him down.
Here's some of what Butler said in case you couldn't watch the video:
Were the four West Virginia supporters huddled in primo seats behind the Butler bench. They jumped off the screen every time the action moved down the court because they simply did not belong. How could you miss those out of place yellow shirts?
Those West Virginia fans serve as a reminder that the Final Four (and all tournament sites) involve fans of four teams, not two. Most of us have been on both sides of the situation. My favorite memory was the bitter Gonzaga fan sitting in front of me for the UCLA/Memphis regional final back in '06, two days after the Bruins launched a miracle comeback and left Adam Morrison crying. My worst memory was the money down the drain for the '08 championship game after UCLA lost to Memphis at the Final Four in San Antonio. It always sucks to be on the losing end of the first game but at least the fans get a second game to mitigate the disappointment.
Last week we told you that President Barack Obama was going to throw out the first pitch at the Nationals season opener Monday. He came through as promised but his delivery was a failure in more than one way. First off, Obama's pitch was high and about six feet off the plate, and somewhat embarrassing. It certainly makes one think twice about the "baller" tag he earned by beating Clark Kellogg at H-O-R-S-E. Secondly, and more emblematically, Obama seemed to have blown his cover leading one to believe he's posing as a White Sox fan. Check out this great find by Brooks where Obama's asked to name his favorite White Sox player on Nationals TV:
For as smooth of a talker Obama's supposed to be, he sure was stumbling and at a loss for words trying to answer that question. The commenters on YouTube have already labeled Obama as a fraud and phony, not far off from my label of him as a poser. I don't care how many political issues are going through your head, you should be able to recall at least one name if you really were a fan and not just lying. I wasn't expecting a Ron Karkovice mention, but Ozzie Guillen would have been an easy answer considering he played about 13 years with the Sox and has been their manager the last six. Carlton Fisk certainly comes to mind and at the very least, how tough would it have been to say Frank Thomas who was the cornerstone of the White Sox during the 90s?
Look, I understand that sports isn't very high on the President's agenda so it's not as if I expect the guy to rattle off the White Sox's pitching rotation, but if he's speaking from true experience, then how could he not come up with one name for his favorite player? Worse yet, in trying to cover his tracks, he said he liked some Cubs players too and the A's as well which really shows he's not a fan. Obama's allegiance to the White Sox seems nothing other than a ploy to identify himself as a South Sider and a friend of the working class man rather than the actual truth. What a sham.
Sources:
'Southside Kid' Obama Can't Name a Chisox Player [Sports by Brooks]
President Obama Good at Basketball, Not Bowling and First Pitches [You Been Blinded]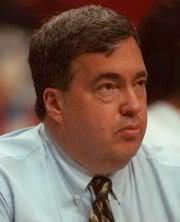 The Chicago White Sox have hired the former general manger of the Chicago Bulls, Jerry Krause, to be a baseball consultant for the team. His main responsibility will be "revamping" the scouting system in the Dominican Republic. Manager Ozzie Guillen seems to think that this was a good decision for a funny reason: "Very smart man. He gambled, trading for me, and he won." Though Ozzie's pleased with the idea, I have some concerns.
Can a man who was so successful in the world of the NBA bring the same magic to MLB? Although Krause was once a scout for the Sox, that was a long time ago. Was it too long ago? I've never been a general manager nor a baseball consultant, so I don't know how easy it is to bounce between sports. Can you go from being a general manager who helped a basketball team win six titles to being a baseball scout and have the same success? I guess only time will tell but it's hard to think it will be easy.
Sources:
White Sox hire Krause as consultant [ESPN]
LeBron James just can't win, can he? The dude's so high-profile that anything he does is over-scrutinized and over-analyzed. First, he showed up to a Yankees/Indians 2007 ALDS game wearing a Yankees hat. Cleveland fans of course were incensed that LeBron would slap them in the face by openly rooting against his hometown team and their beloved Tribe. LeBron's somewhat of a front-runner considering he's a Yankees and Cowboys fan but that doesn't concern me. What was more interesting to me was that LeBron was wearing Dr. Dre's Red Sox headphones at Fenway Park for the season opener Sunday night. Here are a few pictures:
This situation really reminds me of the ESPN commercial where David Ortiz is caught trying on Jorge Posada's Yankees hat and it offends the Red Sox mascot. LeBron could be called a sellout whose allegiances sway with the wind but all he was really doing here was helping out a friend promote a new accessory. I don't think anything of it but I wouldn't be surprised if Yankee fans become disappointed and people use this nugget to say LeBron's not going to the Knicks.
Photo Credits: gleerjr9472 and beats by dre
After an entire offseason of speculation, Donovan McNabb was finally traded to the Redskins Sunday. The price tag was somewhat hefty but certainly less than what the Bears gave up to acquire Jay Cutler. The Redskins gave up a second round pick in this year's draft and either a third or fourth round conditional pick in next year's draft as compensation for the five-time Pro Bowler. Ever since drafting Kevin Kolb in the second round in '07 a mini-controversy had been brewing, not to mention the addition of Mike Vick. Once the team was impressed with Kolb's back-to-back 300-yard games in a starting role weeks two and three you knew they were eager to make him their new quarterback. That time has unsurprisingly finally arrived, but the shocking aspect of the news to me is that the Eagles traded McNabb intradivisionally to the Redskins.
McNabb may be 33-years-old and entering his 12th year in the League but he's coming off one of the finest seasons in his career and showing no signs of slowing down. The chances of McNabb starring for the Redskins the next four years is quite high and that means Washington will have a very legitimate shot at beating Philly twice a season for the next several years. While many Eagles fans may have grown tired of McNabb and been anxious to launch the Kolb era, they probably are concerned now that he's on the Redskins. I'm really, truly shocked that they traded him within the division. It really does show me how confident the Eagles are in Kolb's ability and how little they think of Donovan. Remember the lengths the Packers went to ensure the Jets couldn't deal Favre to the Vikings? I can't believe the Eagles didn't have more reservations about trading him to Washington, regardless of what they received in return.
Sources:
McNabb headed to Washington [ESPN]
Photo Idea: Shutdown Corner