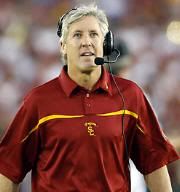 Look, I don't know exactly what Pete Carroll's doing here or what sort of motivation he has. All I know is that he wants to wear his red jerseys against UCLA on Saturday while the Bruins wear the blue. It's something the teams did back in '82 when they shared the Coliseum as a home, and I have no problem if they relaunch the tradition. People have been suggesting that this is a cocky move on Carroll's part, as if he's saying he can beat UCLA without needing his timeouts. Whatever. I'm not sure if that's exactly what he's saying, but that's possible. No big deal to me. At some point something will backfire if that's the underlying message, even if it's not UCLA causing the move to backfire. I mean how much can you really expect out of a team whose quarterback has thrown more touchdowns to defensive players than his own team this year?
I really think this is a moot point and moot argument because the I'm guessing the NCAA will allow them to do this for the rivalry game without facing a penalty. Perhaps it's just much ado about nothing. If not, Neuheisel should just burn the timeouts himself to make it even with Carroll. I'm all about pride and don't like getting shown up, so that will level things out. Of course it will still be a 40+ point blowout, but at least Neuheisel can go down without losing his dignity in the process. Otherwise it would be a slap in the face to the school to say they got beat by a team willing to give up its timeouts. Why don't they just spot us 40 points to begin with? Or maybe Carroll's just trying to give USC fans a nice sendoff before he takes the San Diego Chargers soon-to-be-vacant head coaching/GM job …
That is former Houston Astros semi-star Derek Bell. He was arrested and is in jail on four counts of possession of drug paraphernalia. He's not doing too well. He was also arrested in '06 for cocaine possession. He's had those same eyes since he was 12, but he probably wasn't tweaking back then. I feel badly for him. But I'm glad he gave us a great mug shot to use on the site.
Unfortunately, Bell's mug shot wasn't much prettier when he was arrested in 2006 on the aforementioned coke charges:
OK, so it's pretty unanimous that Sean Avery's an idiot. The guy interned for some femme magazine over the summer and talks about women's purses like Bill Belichick breaks down defenses. I don't even want to get into his childish antics in the playoffs last year. But the guy does have a pretty impressive dating record, so I wouldn't mind his sloppy seconds. And if you don't understand that line, watch the following video:
That's what Avery said to the media the morning before the Stars' game against the Flames — the team for which Dion Phaneuf plays. Phaneuf also happens to be dating hottie Elisha Cuthbert, one of Avery's ex-girlfriends. Another one of his exes is former SI cover girl Rachel Hunter, who's currently engaged to Kings defenseman Jarret Stoll. Wyshinski over at Puck Daddy says the NHL is making fools of themselves by suspending a guy for merely making a silly remark. I agree. I even feel bad that I'm playing into Avery's game by posting the video, but I found the remark too funny to ignore. At least the NHL is getting some publicity out of this.
Avery's Ladies: Elisha Cuthbert & Rachel Hunter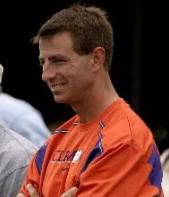 Last year West Virginia found out that Rich Rodriguez was leaving the program to take the job at Michigan. This news was revealed prior to the team's Fiesta Bowl game and assistant head coach Bill Stewart was named the coach for the game. The Mountaineers pulled off a big upset, embarrassing Oklahoma 48-28, and Stewart was immediately named the permanent replacement for Rich Rodriguez. The move was criticized by some of West Virginia's boosters for being an impetuous, emotional hire. Perhaps that sentiment has been manifested in the Mountaineers' semi-disappointing 7-4 season. Clearly Clemson hasn't learned a thing.
The Tigers fired Tommy Bowden mid-season, a move that seemed inevitable following the squad's blowout loss in the opener to Alabama. Clemson went 3-3 before they finally pulled the plug on Bowden, naming assistant Dabo Swinney their interim coach. The team lost their first game under Swinney but wound up going 4-2 with him. Sure, winning at BC looks good, but it seems to me as if the team impetuously rewarded Swinney with the head coaching gig just for scoring an impressive win over rival South Carolina on Saturday.
If you double Swinney's 4-2 half-season, that's 8-4. Bowden was 8-4, 8-5, and 9-4 the last three years. Are they trying to improve the program or just maintain the same levels? Some things just don't make sense. And when Clemson's bitching about their lack of success in the next two years, you'll know why.
Lane Kiffin was introduced as the new head football coach at Tennessee, but the real story was the attractive blonde by his side. That would be Kiffin's wife, Layla.
Layla and Lane met when they were both 24. Layla was working for the Tampa Bay Buccaneers (her father is former Florida All-America quarterback John Reaves), and Lane came to visit his father, Monte, who was the team's defensive coordinator. Monte introduced Lane to Layla, things went well, and they began dating for about three months before he proposed. The two got engaged and have been married since July 2000.
Layla and Lane have two daughters and a son, Knox, who was born in 2009 and named after Knoxville.
It appears as if Notre Dame is now paying the price of signing Charlie Weis to an exorbitant extension in the first year of his tenure. If you remember back in '05, Weis signed a seven year extension that took him through '15, worth around $40 million in total value. Weis I believe is three years into that extension, so the school would need to buy out the remaining seven years of the deal. Some reports last week suggested the buyout wouldn't be as costly as initially anticipated. That logic suggested the school would only need to buy Weis out at the base salary amount of his contract, not the total value. The base salary probably reflects less than 25% of Weis actual salary.
Now WNDU is saying a buyout would cost ND around $20 million, considering they'd have to pay almost the entire amount of the remaining contract. One major problem they're facing is that the school might not even have enough money available to even pay for a buyout. To that end, the school could be contacting alumni in efforts to raise money to fund a Weis buyout. Seriously, I cannot remember money ever being this much of an issue when it came to hiring or firing a coach in college football. How can you afford to sign a guy to such a monster deal and not leave yourself any outs? Alabama did that with Nick Saban, but at least they're getting a run at a perfect season first. Notre Dame is being punished for their capricious actions in '05, namely extending a coach for losing a game (against USC). As desperately as they may need a new coach, it appears as if they might be stuck!
When the Plaxico Burress shooting news came out on Saturday, reports said teammates Antonio Pierce and Derrick Ward were present at the club along with Plax. My boy Monty at Sporting News Radio talked with Ward and got the lowdown that it was really Ahmad Bradshaw at the club with Pierce and Plax on Friday when Burress shot himself in the thigh. Bradshaw you might remember served a 30-day prison sentence over the summer for violating his parole. This is the same Bradshaw who never played a game for Al Groh at Virginia after getting arrested for underage drinking his freshman year, and the same guy who got busted for petty theft not much later. So if Bradshaw's violated his parole once, he probably wasn't supposed to be out at a club where alcohol was being served. The way the Giants are going, this incident could result in the loss of two players.
Plaxico's days as a Giant are probably numbered now. He was already on thin ice for missing meetings earlier in the season, having been fined by the team a bunch of times. He's a distraction and this year he's injury prone on top of it. Sure, Plax was a big reason why they won the Super Bowl last year, but at this point you have to wonder if dealing with his shenanigans is worthwhile. Another interesting point to this whole incident was raised by Florio at PFT: what were Burress' intentions? Was he carrying the gun for protection knowing that teammate Steve Smith had been robbed the week before? Would that excuse even fly with Commissioner Goodell? And why wouldn't Burress just get licensed to carry the firearm in the first place?
It's too bad the Giants have to deal with all this crap when they're having such a good season and looking to repeat as Super Bowl Champs. By the way, does Jerry Jones have enough money left for Plaxico?
This was one of those great touchdown runs where the guy is supposedly down, but he never actually touched the turf. Thomas Jones alertly ran for freedom against the Broncos after everybody had stopped moving, thinking the play was over. They were wrong and fantasy owners were there to capitalize. Check out this crazy TD run in case you missed it:
That makes you wonder if the coach chews his players out for botching the tackle. Can you really get mad at them for not bringing the player down? I guess you need to remind them never to stop until the whistle blows, but then again we have the same problem with personal fouls to deal with.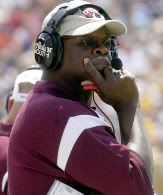 Sometimes you have to look at yourself in the mirror, be honest, and ask yourself, "Can I really do better than that?" If Mississippi State were to ask themselves that question regarding their head football coach, my answer would be "No." I don't know who Mississippi State thinks they are, or what they expect to be in a football sense, but I thought Sylvester Croom did a pretty good job with the program. From what I remember, he inherited a program on NCAA probation with scholarship reductions, one that had gone 7-27 in the three previous years. Sure, it took a few years before Mississippi State was no longer a punching bag, but they had reached that point.
Croom scored a big win over Florida in his first year as the Bulldogs' head coach, helping launch the fire Ron Zook movement. In 2005, Croom's squad obliterated rival Ole Miss 35-14. Finally by mid-season in 2006, his third year with the program, Mississippi State started to play at a respectable level. The Bulldogs kept all of their games in the second half of that season close, proving to me that Croom was getting Mississippi State to a respectable level.
When a guy throws 46 touchdowns in a season, it's pretty hard to narrow down his very best plays. That's why I'm guessing the following play will standout in Sam Bradford's highlight reel at the Heisman Trophy ceremony in New York. Aching to get into the endzone, Bradford let his body go and just leaped for the goalline against Oklahoma State. He didn't quite make it, but the spectacle was phenomenal:
That reminds me so much of the John Elway play from the Super Bowl, the way they both just laid their bodies on the line. Bradford said after the game that he felt his team needed the lift and that's why he went airborne. The move must have worked because the Sooners were pretty charged up after that point and went on to win the game. Now it's just a little computer mess to sort out before the National Championship Game is decided.