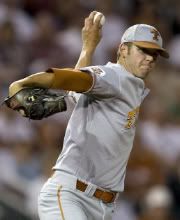 Texas beat Boston College 3-2 in the longest game in NCAA history, 25 innings. The game began on Saturday evening at 7:02pm EDT and didn't finish until around 2am EDT on Sunday morning. There were three seventh inning stretches for the more than 7,000 fans on hand at the Austin Regional. When it was all said and done, Travis Tucker singled in his 12th at-bat of the game to drive in Connor Rowe for the game-winning run. The most impressive story of the night (and morning) came from Texas reliever Austin Woods:
Wood, who threw 169 pitches, came on in relief with a runner on second in the seventh inning. He pitched the next 121/3 innings before he gave up his first hit, a single in the bottom of the 19th.

He struck out 14, walked four batters and gave up two hits in 13 innings. Making Wood's performance even more impressive was that the game was on the line in every inning. And all of this came after he pitched two innings Friday in a 3-1 victory over Army.
Talk about a freaking rubber arm, my goodness. Apparently this type of duty isn't too new for Wood who has pitched in 34 of Texas' 57 games, and thrown twice on the same day three different times. Still, 13 total innings in one appearance, not to mention going 12 1/3 without allowing a hit? That's pretty darn impressive, I don't care what level it is. I recommend you check out the boxscore for the game — it's not too often you see how a 25-inning game looks on paper.
It's amazing how one game can do so much to change the tune and tone of critics everywhere. Prior to Game 5 where LeBron James recorded a triple double to extend the Eastern Conference Finals to a sixth game, many critics were already calling the Cavs a bust and LeBron a choke. Look, I'll admit that I've been critical of James in the past, including mid-season when I said LeBron only had his big games against weak teams and that he didn't show up against the top tier teams, but my eyes are open enough to see when things have changed. This postseason has completely changed my opinion of James.
The guy was an absolutely star against both the Pistons and Hawks, routinely posting triple double or near triple doubles and high point totals. He dominated games to the point where his team cruised going 8-0 prior to the series with the Magic. Just because the Magic were leading the series 3-1 and because the Cavs won the most regular season games doesn't mean losing in the Eastern Conference Finals is underachieving. Hear me out.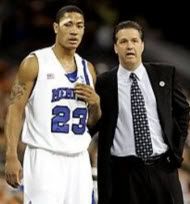 Hmm, so Memphis offers John Calipari more money than Kentucky in the immediate future but Cal jumps to Lexington, saying that coaching at Kentucky was his dream job? I guess it's entirely possible, but now something tells me he was ready to jump ship so quickly because he knew the NCAA was getting ready to crack down on Memphis for major violations. Yeah, I'd say knowing a guy cheated on the SAT is a pretty big deal. The Memphis Commercial Appeal says the Memphis program is being accused by the NCAA of major violations:
The allegations include "knowing fraudulence or misconduct" on an SAT exam by a player on the 2007-08 team.

The NCAA alleged the prospective player became eligible after an "unknown individual" completed his SAT. The player, said the NCAA, "subsequently competed for the men's basketball team through the 2007-08 season, which included his participation in the 2008 NCAA Division I Men's Basketball Championship."
The only player who fits the description in the report (a guy who only played on the team during the '07-'08 season) is Derrick Rose who's currently with the Bulls. The punishment as of now is that the team could forfeit its 38-win season and Final Four appearance of two seasons ago. I'm pretty sure the punishment will be much harsher — almost program killing — if the allegations are proven to be true. And they better darn well follow Calipari to Kentucky — he can't just escape the problems and violations he committed by running away from them. They should follow him the way Kelvin Sampson's problems followed him to Indiana.
Maybe this will temper all that excitement created when John Wall said he'd go to Kentucky. And maybe now this also explains why the school fired Billy Gillispie — they knew Calipari wanted to get out of Memphis and that they'd be able to sign him. Ahah! Everything's starting to come together!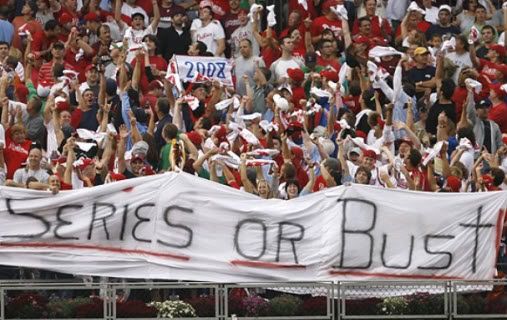 It's like some sort of Twilight Zone in Philly. Philly fans have carved out a reputation as some of the least-forgiving in the country, being notoriously known for booing Santa Claus. But with the Phillies pulling in a World Series title last year, the fans have much less about which they should be bitter. Much less. And apparently that is becoming a problem for manager Charlie Manuel who's unhappy with the team's 9-14 home record:
"I notice sometimes if fans are near our dugout and talking to our players, they always want to talk about last year, and that's good; I want them to keep coming to the games," Manuel said. "But I want the fans to start telling them they want to win this year, too. Of course they love us and everything, but maybe they should get on them a little bit."
This reminds me all too much of the Rachel Phelps line from Major League: "Maybe the problem is we're coddling these guys too much, yeah." It's like Manuel's living in some sort of alternate universe here dealing with Philly fans actually being happy. Now I'm not sure if it's the fans who are responsible for the effect, but the Phils could just be falling victim to the trend of complacency that inflicts championship teams; it's really hard to repeat as champions because players don't always work as hard the following year once they've reached the top. You could point to the team's excellent road record to negate that argument, which I guess would come back to Manuel's comments. Who knows, maybe there is something to what he's saying.
(via Sports by Brooks)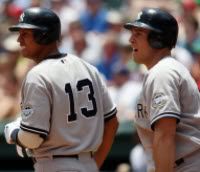 One of the allegations against Alex Rodriguez to come out in the paparazzi-style book about him was that he would tip pitches to opponents late in games in hopes that they would return the favor. This was said to occur only in blowouts as a way to boost statistics. Well it appears as if A-Rod's tipping ways are still in effect, just now he's doing it to help his teammates. In a rare instance where a color analyst actually provided some excellent insight into a game, ESPN analyst Rick Sutcliffe may have picked up on something quite interesting during the Rangers/Yankees Wednesday night game.
Sutcliffe claims that in the first inning Alex Rodriguez used a verbal sign to indicate pitch location for Mark Teixeira while A-Rod was in the on-deck circle. Rangers catcher Jarrod Saltalamacchia gave his pitcher the sign early and set up inside before his pitcher began his windup. According to Sutcliffe, that gave A-Rod plenty of time to whistle to Teixeira, indicating that the catcher was setting up inside. Teixeira wound up turning on the pitch and launching it above the bleachers in left field, a pretty brilliant blast to be sure. When they got into the dugout after each player's at-bat, the two sluggers appeared to flash the "O.K." sign at each other as a way of saying "nice job, that worked perfectly."
Now if you want to say that they weren't setting each other up with help, you would argue that they were flashing the O.K. sign as a way to signify that the pitcher threw him a circle changeup (the circle changeup is held with an O.K. sign as a grip). Believe me, Tex didn't bash a changeup so I'm not buying that one. Sutcliffe showed a whistling sound when they replayed the highlight and he was dead certain that A-Rod and Tex were in cahoots. If that's the case, is that crossing the line or them just taking advantage of circumstance? I know opposing teams frown upon stealing signs like that, but it seems to me like Tex and A-Rod are doing a good job helping each other out. It also really would support the assertions in the book too. Besides, I have to admit, I've had third base coaches tip pitches or location to me using verbal cues when I played, so I won't say this is playing dirty. I'm not sure how other teams will see it other than to say they'll be more careful next time if they're smart. Check out video of the Teixeira 2-run home run below: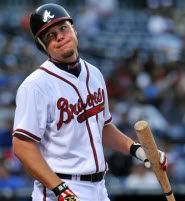 Man, just when you thought the LBS Golden Sombrero Club had seen its last days, we get two players achieve the milestone in the same week … from the same team no less. A few days ago it was Braves rookie outfielder Jordan Schafer turning the trick against the Giants in the first game of the series. On Wednesday evening, it was none other than likely Hall of Famer Chipper Jones who received the honor.
Chipper went 0-for-4 in the team's 6-3 loss, punching out all four times. He went down looking the first time and swinging the last three. His first three at-bats came against another Hall of Famer, pitcher Randy Johnson. The final K-job came against reliever Merkin Valdez. The Sombrero was particularly intriguing as far as Golden Sombreros go for several reasons. For one, this was the first time in Chipper's 15-year career that he's gone Golden. Secondly, he's easily the best hitter that we've seen take the Sombrero since the club's inception. Lastly, it came against Randy Johnson in the same game where the Unit earned his 299th career win. Point is although the Big Unit is 45-years-old, the lanky lefty still has some nastiness in him. Not bad for an old dude.
I can't even remember the last time I mentioned the name Maurice Clarett. I think it's been so long since he's been in the consciousness of the American public that I've never even written a story about him here at LBS. Well our favorite Grey Goose chugging running back apparently is still in prison and trying to turn his life around. Oh yeah, and he has some lofty goals of trying to play professional football again:
I can't hold these feelings in anymore. I want to play football again. I have a deep desire to play. I love the game. I have so much penitentiary aggression pinned up inside of me. I want to hit someone. I want to run the ball. I want to tackle someone. I want to play. I am going to play somewhere. I cannot accept how things ended. I won't accept how they ended. I am 220, rock solid. I am moving swift, running fast, and jumping high. My mind is right and my life is in order. I am 25 but I feel like I am 18. I am still young. Those who do support me deserve and want to see me out there playing again. I play with some pretty good athletes back here. In the penitentiary you could say basketball is football. Back here everything is aggressive. Everything is intense. I know I am an asset to someone's locker room on so many levels.
That's nice that Clarett has the passion for the game again and really wants to play football but let's be real here: the guy had a golden opportunity to play years ago and couldn't cut it physically. Why would anything be different six or seven years later? They wouldn't be. I'm not even sure he'd have a chance at making it in the UFL or Arena League should it come down to that. It's just been way too long and Clarett will just have to channel his energy and passion into something else, sorry to say. Not many others saw such a 180 degree turnaround the way Clarett did. Man.
(via MJD's Shutdown Corner)
Carlos Zambrano has a well-deserved reputation as a hot head. The fiery character was in typical form on Wednesday afternoon during the Cubs/Pirates game. With the Cubs leading 2-1 in the Top 7th, Zambrano threw a wild pitch that allowed Nyjer Morgan to score the game-tying run. Zambrano felt that he had covered the plate to prevent Morgan from scoring, but Nyjer was called safe. Carlos was pretty pissed about the call and started going at it with the umpire, even bumping him. That's when hilarity ensued:
Yes, that's Zambrano chucking the ump from the game! I'm guessing Zambrano's going to receive a hearty suspension for this one. No surprise Zambrano received support from Milton Bradley who says Zambrano was just reacting and that the actions weren't personal. Gotta love it.
J.R. Smith went off in Game 4 for the Nuggets draining 4 three-pointers including back-to-back threes that solidified the win with under two minutes to go. Already with a technical earlier in the game and one in Game 3 for taunting after making a three, Smith started acting out to celebrate his hot shooting streak. The result was the following video presented by Black Sports Online where it appears as if Smith may be flashing gang signs:
OK, so you've seen the video, now I leave it up to you: did he flash signs (perhaps a "b" for bloods) or the number three to indicate he just hit a three-pointer? After discussing it with a friend we both thought he was flashing something but several YouTube commenters disagree (maybe they're just Nuggets homers). The reason why this is significant is because the League might actually want to take a look at the video and see if a fine is necessary. They docked Paul Pierce $25k last year for flashing "menacing" signs at Al Horford in the playoffs. Maybe this will be different because he was just celebrating, not acting out towards any particular individual.
For whatever it's worth, even Smith acknowledges what a jackass he is:
Dude, you want to talk about people who have aged, Mr. T looked more like Kimbo Slice's grandfather than the dude who played Clubber Lang. Anyway, Mr. T actually was at Wrigley Field on Memorial Day to run the traditional gauntlet of throwing out the first pitch and singing Take Me Out to the Ballgame for the 7th inning stretch. Check out the old man in action:
As you heard Scott Van Pelt clowning in the video, the outfit just needs to go. If he can't afford all the gold jewelry anymore, then he should get with 2009 and just throw on a pair of jeans or something instead of those ridiculous pants. The Best of the Best headband was so 1989 too. And if the wardrobe wasn't enough, I think barking the lyrics to Take Me Out to the Ballgame is a little much. Dude, you're leading the song, not ordering us to sing. Take it easy!
(video via Total Pro Sports)