Bernard Hopkins Proves at 43 He Can Still Beat a White Boy Like Kelly Pavlik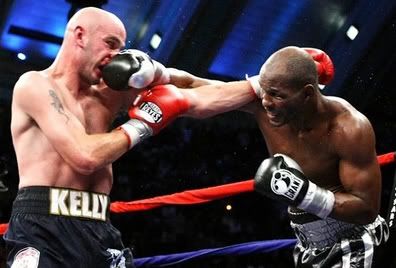 It was just six months ago that Bernard Hopkins was forced to eat his words upon losing to Joe Calzaghe. Hopkins declared pre-fight that he would never let a white boy beat him. Then he went out and lost the fight. Half a year later he was the underdog by most accounts in a fight with the much younger Kelly Pavlik. Funny thing happened though: Hopkins destroyed Pavlik. The Old Man dominated the fight in Atlantic City from the start and it could be argued he never even lost a round. Already well past 40, Hopkins says he might be approaching Evander Old Field territory:
"I could box another two to three years," Hopkins said. "I think this was my best performance, better than Tarver, better than Trinidad, better than Oscar [De La Hoya]. I am extremely happy tonight. Ninety percent of the media picked Pavlik. I always appreciate naysayers. That is what motivates me — when people are against me. I don't wish I was like that but that's the way it is."
I say why not? If he's this good at 43, sure, he can go longer. Don't forget he missed a good chunk of his prime being in jail, so his body is slightly younger than its age. And now saddled with his first career loss, Pavlik says he'll be dropping back down to 160 instead of trying to step up and fight the light heavyweights. Probably a wise move. And boy did Hopkins gain my respect after watching the clinic he administered. Yeesh.