Boxer Juan Carlos Robles Amputated His Own Finger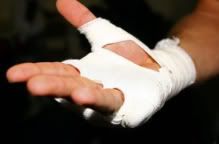 As far as craziness in athletics, this has to be right up there. I knew that some athletes were borderline insane and that some will do anything to be able to perform in the heat of battle. I even heard of fans who lost toes watching games. And I've even heard the story of Ronnie Lott asking doctors to cut off his finger so it wouldn't get further injured. At least when Lott opted for amputation, he let the doctors take care of the messy part. Apparently that wasn't the case with Juan Carlos Robles. Deadspin has the scoop:
[Robles] went home, put towels over the kitchen table and blocked off a working area with several two-by-fours. He put gauze around the area and twisted soldering wire around his right pinkie to slow the flow of blood.

"Then I put a wood chisel on it and dropped a 15-pound weight on the chisel," Robles said. "The piece shot out about six feet like a missile."
If you're wondering what led up to the amateur surgery, Robles injured himself in a motorcycle crash but didn't have medical insurance. Rather than pay for surgery to fix the one injury that lingered (he also broke his knee cap and forearm), he decided to do it himself. He now proudly wears the pinkie as a souvenir around his neck. Must be one pleasure of a man. Oh yeah, I believe his record is 10-2. Read the full story if you're still curious.