Canelo Alvarez beats Alfred Angulo with vicious uppercut (GIF)
Has Canelo Alvarez been studying tape of a young Mike Tyson? Because sheesh, the man just UNLOADED a vicious uppercut straight to the face of Alfred Angulo during the 10th round of their fight on Saturday night.
Canelo was cruising in the fight and inflicting a lot of punishment on his opponent, so it wasn't too surprising to see the fight called by the referee. But it was somewhat surprising that the fight was stopped at that moment when it looked like Angulo could continue. He was clearly upset that Tony Weeks stopped the fight: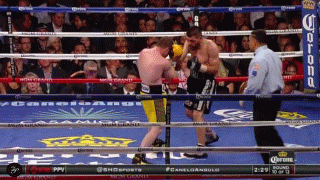 Don't be mad, Alfred, he just saved you a few extra brain cells, homie.
Here's another angle of the TKO blow:
GIFs via GIFD Sports, Zombie Prophet, MockSession