Zab Judah Wants Mosley Drug Tested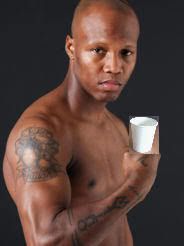 Zab Judah and Shane Mosley agreed to fight at Mandalay Bay in Las Vegas on May 31st a few weeks ago. It's an intriguing fight because both men still are big names in the sport and were amongst the most talented fighters in the world not long ago. One problem however, Zab thinks Shane might be a little too talented, or shall I say, Zab is worried Shane might still be aided by illegal substances. And to ensure Sugar Shane isn't still using steroids "unknowingly," he wants Mosley to take a private drug test to prove it:
In a March 13 e-mail obtained by The Times, [Judah's promoter Michael] Shinefield formally requested to Mosley's Golden Boy Promotions that Mosley submit a blood test through a World Anti-Doping Agency-accredited laboratory.

"We would be willing to absorb all cost associated with this test for both fighters," Shinefield wrote in the e-mail. "Please understand that this ends any and all speculation of doping by either fighter. With the fight being touted as 'High Stakes,' it's only just that every step is taken to ensure a fair fight. We hope Shane agrees!"
Mosley continues to say what he did was totally innocent and believes this is a ploy by Zab to get under his skin. Probably is. What's wrong with attracting a little extra attention to the fight, especially if you're Zab and just returning from a one-year suspension by Nevada? Zab's looking for any edge he can get. And I do know one thing: Zab is making Rick Reilly proud.