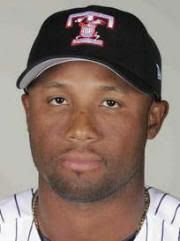 This is something that I touched on before — Roman Colon busted up a teammates' face following an argument over clubhouse music blaring from Colon's Ipod. Yeah, that's some brotherly love if I've ever seen it. So back in that report, Colon was facing felonius assault charges. Well, thanks to an email tip I received, we know that there is some progress in the case:
Just hours before game time Saturday in Erie, Pa., where he was sent to play with the Erie SeaWolves during rehabilitation, Detroit Tigers pitcher Roman Colon was arrested on a felonious assault charge.
Dang, how embarrassing is that? I wonder if they came into the clubhouse to put the cuffs on. So Colon has made the $50,000 bond apparently. Sheesh, that's a lotta cash. And it sure serves as a reminder for everyone, next time you're going to put on clubhouse music, make sure it's something everyone can enjoy, like George Michael. Ever see any fights break out over George Michael?