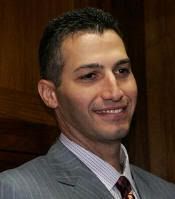 OK, so much ado has been made over Andy Pettitte's role in this whole Roger Clemens/Brian McNamee fiasco. Congressman Elijah Cummings said Pettitte seemed to be the most believable character of those who spoke to Congress. People seem to think he did something great. Matt Watson nailed it calling Andy Pettitte a liar for saying he only used HGH once in 2002, when in fact he also knowingly used it in 2004. While I don't condone cheating the game and your competitors, I found Pettitte's reasoning for why he used HGH particularly intriguing. Here is the reasoning from Pettitte's deposition, which I spent the hour braving through (so you don't have to, because after all, I'm really looking out for you):
On his use in 2002 …
I was making an awful lot of money. I wanted to give back to the team. I had been on the DL before. But I knew I had hurt my elbow pretty bad this time. I was on there for an extended period of time, where before with my elbow I'd only missed a coupleof weeks. But I knew that I was missing some extended period of time there. And I just felt like that it was the honorable thing to do, if I could do whatever I could to try to get back on the field and try to earn my money.
And then on using later in 2004 (where he actually says he injected himself, ewwww), this is a must-read: