OK, so I realize that Gil was talking about building a replica of the Playboy Mansion pool at his house before signing his new deal, but it just makes it more fun to say it this way. Anyway, DC Sports Bog was able to snag some photos of Gil's highly hyped lagoon. Check out the pics of this million-dollar bad boy in its preliminary state: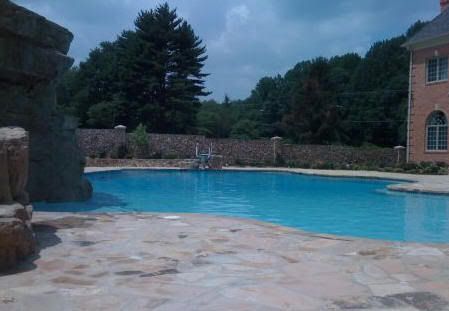 Here are a few fast facts about the pool:
* The stone for the "mountain" cost nearly half a million dollars.
* There are three different fish tanks, one going in the "grotto," one in the front hall, and one in the basement. Their normal retail price would have been about another half-million.
* The tank in the basement will have a recess with a couch in it so Gil can "relax and look up at the fish."
* The work is scheduled to be finished in August.
That's pretty clutch right there. Never have I wanted to be invited to someone's place more than Gil's (Playboy Mansion comes a close second). More pics after the jump