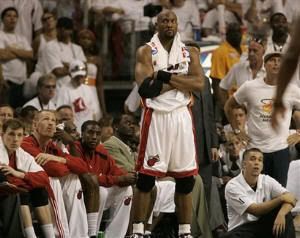 For only the second time in NBA history, the defending champion got swept out of the playoffs in the first round. Let me repeat, the Miami Heat got absolutely embarrassed in the first round. So for all the talking, gabbing, jabbering Miami did, it all got thrown back in their face splendidly.
To Mr. Riley, a man who is there to hog the spotlight as soon as it turns on, and is quick to run away as soon as it shuts off, how about a nice shit burger in your face. To the Heat front office, who so desperately had Dwayne Wade return from a serious injury in order to try and make a run, you got smacked. And to Shaq who said repeat, you got cracked.
The Miami Heat did not just lose, they lost spectacularly. They got swept. Couldn't even manage a stinking game. In Game 4, Dwyane Wade turned the ball over more by himself than the entire Bulls team did. Zo said they weren't worried when they were down 2-0, afterall, it's the same spot they were in against Dallas in the finals last year. Yeah, how'd that work out for ya huh? All the fans down in South Beach showing up for the White Out at AAA, have a fun time?
Let me just say this now: the Heat reign atop the Eastern Conference is over. Short lived. Plenty of credit for winning it all last year, but some serious retooling is needed for the future. Won't be long before Shaq and Riley are gone. What happens next? Looks to me like time has passed you by.