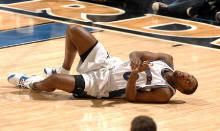 Yeah, back a few months ago before the injury, Gil was the hottest thing around. Now, not so much. He's rehabbing his injury and blogging about it. In fact, he dropped a few nuggets on us. One is about his current training program. The other, was some nice smack talk. I'll share both of them with you, courtesy of Gil's blog:
Right now I'm in the middle of making 100,000 shots over 73 days. It's a little mini-series I do. Right now I'm shooting 69.7 percent from the three-point line and I'm shooting 79.3 percent, I think, from the college three.
…
I came up with this idea because of this kid Mike. He's a shooter that went to my high school and broke some of my records, and this is what he just finished doing. So we do these little challenges because he thinks he can shoot better than me. He knows mentally he can't beat me, but I have to say he did shoot 85 percent from the college three-point line. I think that's pretty good.
…
They were down in D.C. at the Verizon Center so I played with them. I hit a couple buckets, you know, but that's all I can say. I couldn't jump and stuff them, I was looking like I was Chucky Atkins out there around the rim. The stroke was there, but I was looking like Chucky on the vert.
Gilbert still has the magic touch! Gotta love him. Ragging on Chucky Atkins — that's Gil at his finest. And the kid Mike from Gilbert's high school who broke some of his records is Mike Danielian, who plays for Azusa Pacific in So. Cal. Let me just say this, 70% from the 3pt line is absolutely absurd. There's a reason he gets paid the big bucks. And that Danielian kid should too — 85% on college 3′s?!? Are you kidding me? Slap an All-American tag on him, he's golden.
Other Awesomeness from Gilbert's Blog:
I'd Drop 84-85 points on Duke
Gilbert Takes on DeShawn Stevenson in a 3pt Competition
Gilbert Predicts 50 points Game Against the Blazers
Gilbert Fires Back at the Media