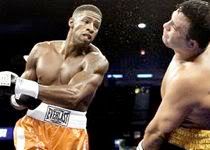 Talk about a blast from the past. I was stunned to come across a press release informing me that former Illinois star and longtime NBA player Kendall Gill was returning to boxing. Despite being 41-years-old and five years removed from his last season in the NBA, Gill is scheduled to fight Friday night at UIC Pavilion against Miles Kelly. Gill is 3-0 with two knockouts in his boxing career and he's scheduled to fight four rounds. Gill will have his work cut out for him because he hasn't fought since '05:
"I've wanted to get back in the ring for some time; most recently I've been training for the last two months at JABB Boxing Gym with Mike Garcia and Luis Mateo. I'm in terrific shape and can't wait to get back in the ring."

"I thought I was in great shape while playing in the NBA, but training to box put me in a completely different physical mold as a person."
Gill played for seven different teams in the NBA with his highlights including averaging 21.8 ppg with the Nets in '96-'97. Gill also led the league in steals in '98-'99 averaging a ridiculous 2.7 per game. I'm still surprised his "Flying Illini" squad lost to Michigan at the Final Four in '89 with the loads of talent on their roster. Here's to Kendall Gill improving to 4-0 and joining Herschel Walker as a successful fighter in his post team-sport career.