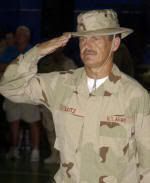 A friend of mine passed along this story to me in an email, and I had no idea how jacked up it really gets. Here's your quick background: Bobby Lutz is the men's basketball coach at Charlotte, who also interviewed for the South Alabama job. But that's not all. His name got thrown into the mix at South Florida, prior to the Bulls hiring of ex-Arkansas coach Stan Heath. How did his name surface around South Florida circles you ask? Well, a blog post in the St. Petersburg Times listed his name as one of many candidates. Naturally, readers had a chance to respond to the post in a corresponding message board. I'll let Gary Parrish take it from here:
That led to a post from somebody who entered the name "TTTTRRRRRRRRR". It read: Bobby Lutz would be a great hire for USF. He is very frustrated with everyone at Charlotte including the Athletic Department and his dwindling fan base. I think he would thrive in the Big East. From what I hear Greg (sic) Marshall is an a-hole to work with. And with the competition he faces in the Big South Conference, he is not nearly as proven as Lutz.

Typical message board stuff, right?

Yes, except that at the time when a reader put his mouse over the "TTTTRRRRRRRRR" the email address entered by "TTTTRRRRRRRRR" during the registration process appeared in the bottom left of the screen, and it was Lutz's school-issued email address. The address was later removed, but not before someone used it to email Lutz, causing quite the internal stir.
Of course Lutz vehemently denied that it was him who posted the comment. So who could've done it?
According to Lutz, an investigation uncovered somebody in Fort Mill, S.C., (about 10 miles from the Winthrop campus) entered his email address, but the IT people were unable to isolate a specific person. Still, Lutz was so bothered by the development he said he actually called Marshall, now the coach at Wichita State, to clear any confusion.
It's bad enough when coaches have to deal with their own screw-ups, or those of their players. But to have to deal with message board controversies? That just sucks. Damn bloggers and message boarders.