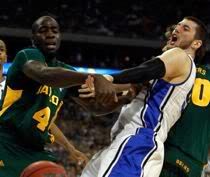 Pete Gillen famously mused that Duke is "on TV more than Leave it to Beaver reruns." Perhaps his statement should be amended to say, "Certainly Duke is Duke, they get more favorable draws and favorable calls than anyone," because that's how I feel after seeing the Blue Devils advance to their latest Final Four. Give the Blue Devils credit for having an excellent regular season and winning four games in the tournament but I can't get past a couple of issues.
The first issue is one about which I complained on Selection Sunday and many times before — Duke got a favorable seed and favorable draw. They were the third number one seed — ahead of Syracuse despite the Orange's undisputed more impressive resume — and they somehow avoided the top two number two seeds in Ohio State and West Virginia. Not only did they receive a struggling Villanova team in their bracket (losers of five of seven entering the tourney), but they also got Purdue as their four seed — a team that struggled to score once they lost Robbie Hummel to a knee injury. The NCAA took care of their part, Duke did theirs.
The second issue is one that tipped the South Regional finals game in Duke's favor — favoritism from the refs. Although I felt like the game was called evenly the first 35 minutes or so, three calls in the final five minutes helped take the ball out of Baylor's hands and give Duke more opportunities for victory. Let's go over each one.