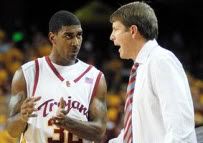 Between the investigation of all the Reggie Bush stuff with the crooked Michael Michaels and the leaked O.J. Mayo information, it's no wonder that USC decided not to bring Renardo Sidney aboard. Why would they want another problem on top of current problems being investigated? Well with rumors swirling that the NCAA was going to hand down penalties on the SC programs, information got picked up by Yahoo! that basketball coach Tim Floyd was involved in some pretty shady stuff when he recruited O.J. Mayo. As Yahoo! tells it:
[Louis] Johnson, a one-time Mayo confidant, has told both NCAA investigators and federal authorities – including the FBI, IRS and U.S. Attorney's Office – that [Tim] Floyd gave at least $1,000 in cash to Rodney Guillory, a man who allegedly lavished Mayo with improper benefits while the guard starred for the Trojans.
…
Johnson also said Mayo received approximately $30,000 in extra benefits from Guillory while playing for the Trojans. He first made those allegations to ESPN's "Outside The Lines" in May 2008, producing a litany of receipts to back up his claims, including purchases of food, clothing and a 42-inch flat screen TV for Mayo.
When the ESPN report came out my first reaction was to say that Mayo made the error of having the wrong people around him — ones that would rat him out. Never did I realize that Floyd would be dumb enough to make this big of a mistake. Moreover, the story that Mayo "picked" USC on his own and that Floyd just fell into O.J. seems now like a semi-truth; it was much easier for Mayo to tell USC that he wanted to go there so long as they met his monetary needs.