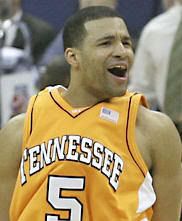 As I'm sure you have not seen because it was not placed prominently on a certain, popular sports website, but turns out Tennessee guard Chris Lofton is a cancer surviver. This is complete news to me and many other college basketball fans who have watched Lofton ball all season long. The news was pretty much kept quiet the past year and you couldn't tell that Lofton was anything other than 100% healthy. So here's the crazy part, want to know how it was found out Lofton had cancer? You'll never guess:
He was diagnosed with cancer only a few days after Tennessee ended its 2006-07 season with a Sweet 16 loss to Ohio State in San Antonio. Miraculously, the cancer was discovered after Lofton was picked randomly following the first-round win over Long Beach State to submit to an NCAA-mandated drug test. The results turned up positive, and Tennessee officials weren't notified until the day of the Ohio State game.

What nobody knew at the time, at least for certain, was that what actually showed up on that test was a tumor marker.

It's a test that might have saved Lofton's life.
It was indeed a cancerous tumor as they came to find out through further testing, and a few days after the season ended, Lofton had surgery to remove the tumor. There are several miraculous aspects to this story. First, it's incredible that cancer was discovered through an NCAA drug test. Secondly, it's impressive that in this day in age they were able to keep the news away from the media. And lastly, I'm quite impressed by Lofton that he kept this story private. He didn't want any excuses for his play during the year and he probably didn't want any questions about his health. My kind of guy. I don't think he'll make much in the pros, but that doesn't matter — dude seems like a gamer to me and he's healthy now.