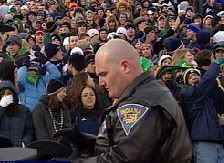 So much for the delusions of an 8-4 season and surge to prominence under Charlie Weis and his "number one recruiting classes in the country." Notre Dame suffered its 5th and no doubt most embarrassing loss of the season Saturday, getting beat 24-23 by a Syracuse team that had won just two games prior to the contest. The Orange had also just fired their head coach the week before for good measure, something from which ND might have to take a cue. Things are so miserable for Notre Dame fans at this point that they're trying to find new ways of amusing themselves at football games — they're making snowballs. And hitting their own players with 'em:
Notre Dame football players were pelted by snowballs from fans sitting in the student section during their loss to Syracuse on Saturday.

"To throw snowballs at their own team, I didn't think that was a smart thing to do. I guess (they thought) it was funny," defensive tackle Pat Kuntz said.
…
Defensive lineman Ian Williams got hit in the helmet, defensive end Ethan Johnson was struck on the left cheek and a St. Joseph County police officer on the sideline looking into the crowd got hit in the chest.
Well, I guess that's one way to respond to an embarrassing loss. I wonder what kind of raucous the fans of UW and Wassou would be causing if they had the manners of Notre Dame fans. This is certainly a low point for the program and no doubt the fans will regret their actions (especially the ones in jail).

UPDATE: Check out video of the snowball fights