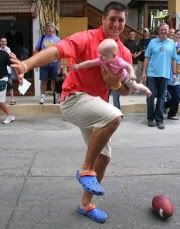 For some reason or another, Tim Tebow seems to be the guy people love to hate. Maybe it's cause he nails hot chicks. Maybe it's because he kisses babies. Maybe it's because he refuses honors from Playboy. He's like what J.J. Redick was at Duke, but for college football. Anyway, after initially causing a stir with his words, LSU defensive lineman Ricky Jean-Francois backed off his Tim Tebow comments:
"If we get a good shot on [Tebow], we're going to try our best to take him out of the game," Jean-Francois said Monday. "With his size and his heart, it's hard to get a clean shot."
…
Later, LSU's Web site carried what it termed a clarification from Jean-Francois.

"We never go into any football game trying to hurt a player from the other team," Jean-Francois was quoted as saying. "My comments in regard to Florida quarterback Tim Tebow were misinterpreted and were intended to reflect the style of football that we play at LSU. We have great respect for Tim as [a] player and a competitor. By taking him out of the game, I meant as a defense we are going to try to make him ineffective. I'm sorry that my initial comments were interpreted another way."
I really do think it's unsportsmanlike to try and intentionally knock a player after a game. Going for a sack or trying to stick a player with a tackle is understandable — that's the intent of the job. But you're not out there trying to injure a player even if it helps you win. Either way, this sure has added some extra fire to Saturday's big game between the teams in Gainesville. Now Jean-Francois needs to back up his words Joey Porter-style.