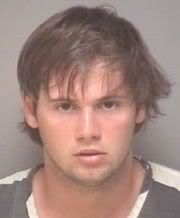 Monday was a tragic day on the University of Virginia campus where a member of the men's lacrosse team, George Huguely, killed his former girlfriend, Yeardley Love, a member of the women's lacrosse team. In some absurd transitive logic, some people are suggesting that lacrosse is the problem because they're combining this story with the false accusations made against Duke's team. I can't fathom making that connection. There is one item I will point out and it has to do with the power of words. Anyone who's tried to punch up their resume knows the difference between a secretarial job and calling yourself an executive assistant. In the same light, Huguely and his lawyer are trying to soften the blow of Huguely's murder or Love by saying he shook her to death. Riiight. Details from the Daily Progress:
George Huguely … admitted to police that, during an argument with Yeardley Love, he "shook Love and her head repeatedly hit the wall," according to an affidavit requesting a search warrant.

Affidavits requesting search warrants described witnesses finding Love face down on her pillow in her bedroom. Her right eye was swollen shut, there was a pool of blood on the pillow, and her face was bruised, according to the affidavits. The door to the room had been forced open and had a hole in it, according to the documents.
I don't know about you, but I haven't exactly heard of a cause of death for an adult that included being shaken to death. Sounds to me like a euphemism for beating someone to death. Shaking someone wakes them up and makes them alert; it doesn't kill them. Beating them up and throwing them against a wall repeatedly is good enough to finish them off. We'll know more when the coroner's report comes out, but the affidavit description sure seems to confirm she was murdered by Huguely. Accidental my butt.
Sources:
Affidavit: Lacrosse player admitted to physical confrontation [Daily Progress]