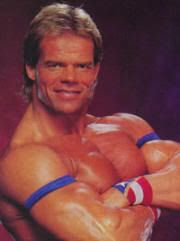 I may not be the biggest wrestling fan out there (at least, not since 3rd grade), but I am a fan of classic wrestling entrances and signature moves. Anyway, a concerned SpinMax emails in with the news (?) that wrestling stud Lex Luger's health is in question. From 411 Mania:
Lex Luger, real name Lawrence Pfohl, age 49 is currently listed in stable condition in the emergency care unit at Stanford University Hospital in Palo Alto, CA. Luger had a major health scare in his hotel room in San Francisco this morning and reportedly has no feeling below the waist. No official word is being released, but at this point it still could be a stroke, but a heart attack is also possible.
Hmm, Lawrence Pfohl? No wonder he went with a stage name. I have to say, after reading up on Luger's questionable lifestyle, this news comes as no surprise. Still, that would just add to the growing list of wrestlers who have died early. I guess steroids use its a price.