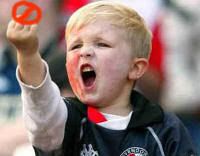 There's been a bit of a discussion going on in the comments following the post suggesting UCLA still has a shot at the Rose Bowl after beating Oregon, despite completing just four passes in the game. The discussion raises a larger issue beyond strictly UCLA football: is it ever OK to root against your team? I have mixed feelings on this subject, considering I've only been lukewarm to the idea of UCLA's football team the last few seasons. I think there are two cases when it's OK for a fan to root against their team.
If it helps the team in the long run to lose in the immediate, short term, then I think it's OK to root against your team. Losing could help a team in the long run in two cases — if it helps a poor executive or coach get fired, or if it helps them gain a higher spot in a draft. Lions fans felt this way about Matt Millen, Jets fans once upon a time with Rich Kotite, UCLA fans with Lavin and Dorrell. Last year Celtics fans were rooting for losses so they could get Greg Oden or Kevin Durant in the lottery.  The second circumstance is if your team's season is already lost, and by losing, you're screwing over your biggest rival. For instance, if you're a Red Sox fan and the team is 60-101 heading into the last day of the season, and losing gives the Blue Jays one more win to pass the Yankees for first place keeping New York out of the playoffs, you have to be rooting against your team, right?
There are some cases where natural sensibility outweighs irrational fervor as a fan. Those are the two circumstances, as crappy as a feeling as it is, when I think it's OK to root against your team. Or am I completely misguided because fans are fanatics, with only one purpose — to cheer for a team no matter what? Your thoughts are welcome.