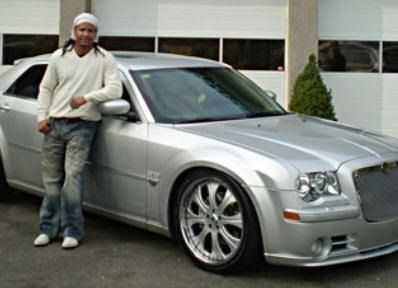 Not long ago, we had Jerome Bettis selling his rig on eBay. Now it's Manny Ramirez. Apparently not turned off by the hardship trying to pawn off a friend's grill via auction, Man Ram is returning to the internet for profit.
Manny's tricked-out 2006 Crysler 300M, SRT8 with a 6.1 liter hemi, will be going, going, gone to the highest bidder.

"It's a fun car," said West Roxbury Motors' Jerry Nasif, who is handling the sale of the car for Manny. "It has a lot of custom features, 22-inch wheels, chrome, a custom grill. It was Manny's personal drive."
…
Nasif said Manny wants to sell the Chrysler to make room in his garage for the '56 Chrysler Imperial coupe he told Jay Leno he is hot to buy.
While Manny calls himself a car enthusiast, he only has four rigs in the garage. What do you expect out of the guy? He was living in a hotel recently. And memo to Man Ram: if you're going to sell something on eBay, make sure you're not outdone by a teammate who already sold a car that was more tricked out than yours.
(via Ballhype and Extra Mustard)