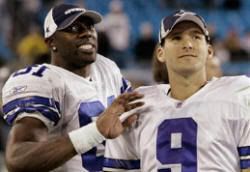 You would think the guy would learn the first time around that you don't rip on your starting quarterback — at least to the media and the free world. But apparently guys like Terrell Owens are the exception. As I posted at FanHouse, T.O. said in a recent Q&A with Time Magazine that he would prefer Peyton Manning and Donovan McNabb over Tony Romo:
If you could choose any quarterback in the NFL to be the No. 1 in Dallas, who would it be and why? Patrick McLeod, PANAMA CITY

Man, that's a tricky question. I don't want to cause trouble … O.K., I would say Peyton Manning, then Donovan McNabb. Peyton has history on his side, with his dad being a quarterback, and you can't say enough about how studious he is in the film room.
I guess the man just doesn't learn. Recently, Roy Williams did a radio interview and said he wouldn't want any other quarterback than Jon Kitna throwing to him. That's quite a stretch, but that's the type of confidence one player should have in his teammate, particularly when you're talking about a receiver/quarterback relationship. In another question, T.O. also said he's grown more fond of McNabb, who I feel without question, is one of the best quarterbacks in the league.