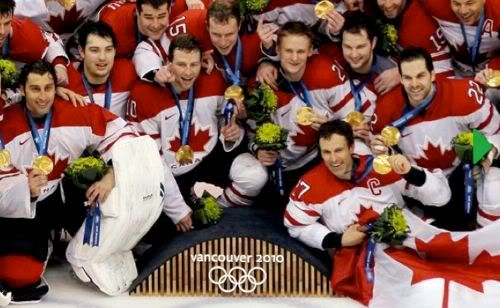 And apparently so do we. Not as much as them, but the TV ratings for the Olympics gold-medal game between the U.S. and Canada were through the roof in both countries. The game apparently had an average viewership of 27.6 million and maxed out at 34.8 million viewers at the end of the 3rd period. The only game with a higher rating in the U.S. in the last 30 years was the 1980 gold-medal game against Finland which followed up the Miracle on Ice. Now if you thought that sounded like strong ratings, the numbers in Canada blow ours away:
It was also the most-watched television broadcast ever in Canadian history, with an average audience of 16.6 million viewers. Nearly half of the Canadian population watched the entire game on average, while 80 percent of Canadians watched some part of the game (26.5 million).
80% tuned in at one point? Damn, that's freaking crazy. The Super Bowl usually attracts less than 50% of our population by comparison. Also putting this game into proper context, the gold-medal game outdrew the Rose Bowl, World Series, NBA Finals, March Madness championship game, and the Daytona 500. Without a doubt this was a boon for hockey and hopefully just what the NHL needed to regain some of the popularity it once had. Remember, it was only 15-20 years ago that the NHL had equal popularity as the NBA. I hope this enthusiasm keeps up.