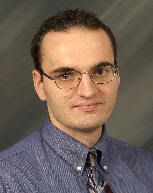 One of the best writers and bloggers out there, if not busiest, is Michael David Smith. Smith writes regularly for FanHouse, Pro Football Talk, the New York Sun, Football Outsiders and FoxSports.com. He has also written about football for the New York Times, the Orange County Register, Deadspin, The New Republic Online and ESPN the Magazine, and he appears regularly on WSCR radio in Chicago. He has contributed to several books, including the annual Pro Football Prospectus. His weekly feature, Every Play Counts, was described by the Wall Street Journal's Daily Fix as "packing more game analysis into a single column than many beat writers display over a full season," and in August SI.com named him one of its 10 notable sports media people of the month. Smith is a graduate of the University of Illinois and lives in Chicago with his wife, a lawyer. Somehow I was lucky enough to pull MDS away from one of his several gigs to answer some questions about himself and his thoughts on the industry. Our interview follows.
1. Take us through your career path. When did you start writing about sports and how and when did you get hooked up with all your current gigs?
I started writing at the Daily Illini, the student newspaper at the University of Illinois, during my freshman year there, 1995. I hardly ever wrote about sports, though: The football team was horrible, the basketball team was mediocre and I was more into writing news and feature stories. I worked there all four years I was in college and was the editor in chief my senior year, and it was a great experience.
Although I wasn't on the sports staff at the student paper, I did, during my junior year, start sending around a weekly e-mail to my friends about my thoughts on the NFL. I really don't know what inspired me to do that, and I'm sure a large portion of my friends just deleted the e-mail every week without reading it, but some people told me they really liked it, and I knew writing about the NFL was something I wanted to do. At that time, though, I thought it would require the traditional journalism career path: You take a job at a small paper covering high school sports or something, and you work your way up. I didn't find that particularly appealing.