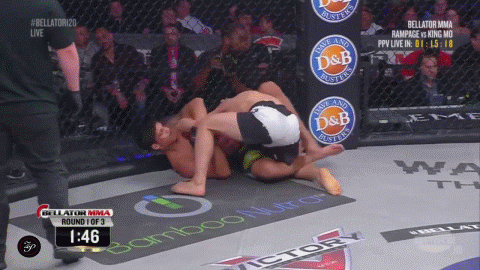 Shahbulat Shamhalaev lost to Fabricio Guerreiro by first-round submission in the preliminary card for Bellator 120 on Saturday night, and he had his arm broken while being submitted.
Guerreiro got Shamhalaev with a kimura and had his opponent's left arm bent backwards. He proceeded to work on it until it snapped. What stinks is that Shamhalaev clearly was tapping out, but the referee didn't see it in time to step in and call the fight. And Guerreiro didn't stop either until he snapped that chicken wing like he was working on a 12-piece bucket from KFC.
I guess that's just the cost of doing business sometimes when you're a professional MMA fighter. I just hope that's not Shamhalaev's wiping hand.
GIF via ZombieProphet