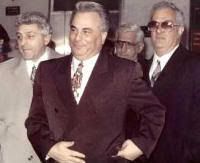 Russian tennis player Nikolay Davydenko is being investigated for possibly fixing matches. There have already been players found to be betting on the sport. And coming off the Tim Donaghy scandal in the NBA, we now have John McEnroe who fears that the mafia could be infiltrating tennis. Says McEnroe,
"The thing that worries me is that mafia types, like the Russian mafia, could be involved. That's potentially pretty dark and scary," McEnroe told The Daily Telegraph.

"I think that's the side that people aren't really looking at with these match-fixing stories. Someone may have threatened the players, and they are put in a situation. I'm guessing that could happen. That would make more sense to me than top players throwing a match for money.

"Throwing a match for money would be stupid, as you would be risking losing what you've worked for your whole life. It seems crazy that players would take that risk for money. It would make more sense that they've been threatened in some way and that's why they're doing it."
He makes a good point — highly ranked players who worked that hard wouldn't have an inclination to tank matches — least you wouldn't think. One place where I wouldn't guess mafia ties are involved is when the lower ranked players throw matches. They could probably make more money from tanking matches than they could from losing in the first or second round of a tournament, so it doesn't necessarily translate to pressure from the mafia. Still, this is some scary stuff that I hope is not going on.