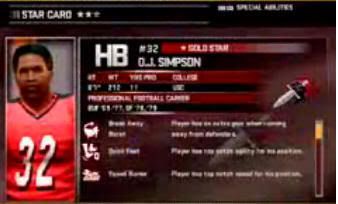 The Hater Nation tips me off to this great video of OJ Simpson who apparently is a character in a football video game. Since I haven't dominated football video games since Play Action Football on Nintendo back when I was in 1st grade, I don't have much insight to offer. Luckily for me, Unsilent Majority fills me in:
You might have heard about this new game, All-Pro Football 2K8 (that's gamer language for "Too Kate" — which I assume is a a tender dedication from the game's programmer to e-lover). It's the one that couldn't get licensing from the NFL so they simply created their own fictional franchises and stocked the rosters with former NFL legends. While the game's cover features such respectable citizens as John Elway, Jerry Rice, and Barry Sanders
Great, so there's your background. Now, make sure you watch the clip all the way til the end. You don't want to miss the final move.
The LA grim reapers with a sickle. Nice.

Other OJ Simpson Madness:
Down Goes the Juice, Down Goes OJ!
You can Buy OJ's Not-Guilty Suit