Fans Miss End of Kansas-Missouri Game Because of Sun Spots Affecting CBS Feed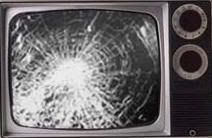 The tournament hasn't even started yet but we're already having complaints from fans about getting their game switched out for another one on CBS. Only this one appears to be due to a legitimate technical error rather than the judgment of an individual.
During Saturday's border war on the hardwood between Missouri and Kansas, fans in Kansas City, Columbus, and St. Louis had their game on CBS switched to the Michigan-Michigan State contest as I learned from KC radio host Nick Wright. Other fans across the country lost the Kansas-Missouri feed, but were apparently intentionally switched to the Arizona-Oregon game instead.
KU Sports says "KCTV5 apologized to viewers and said that CBS told them the problem related to sun spots causing problems with the satellite feed from the national network." They're saying the problem won't happen again which is good, because I've never heard of such an issue.
Kansas may have been ahead by a dozen points with three minutes left in the game, but if there's anything I know about the Jayhawks it's that you don't screw with their fans when it comes to basketball. You mess that up, you get fury and CBS learned that the hard way.