Florida's Not One of the Best Ever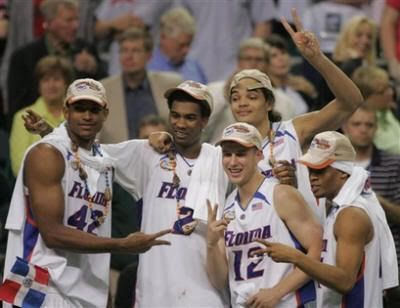 Yes, Florida certainly was awesome down the stretch, closing out their season with ten straight wins. Yes, their closest game during the entire tournament was a seven point 2nd round win over Purdue. Yes, they never had a moment of panic and struggle. Yes, it was extremely difficult to go from being an underdog last year and winning it, to becoming the favorite entering the year and managing to repeat. There's no denying that what Florida did was special.
That being said, I will respectfully disagree with Billy Donovan who announced
I think you really have to look at this team, and I'm not saying they are the best team, but you have to look at them and say they are one of the best teams to play this game
I won't annoint this team as one of the best ever. Sure, winning back-to-back titles now seems more difficult than when Duke did it in the early 90s; legacies and eras of domination are too short because players leave for the NBA too early in their college careers. But as good as the Gators proved themselves to be in the tournament, you have to wonder what business they had losing ANY games this year. Call me a cynic, call me a flaw-finder, call me a pessimist, call me a bitter UCLA fan. I'll take it all.
But I'll tell you this much about Florida — they were by far the best team in college basketball this year, with nobody coming in as a close second. Tell me one team that would win more than three games against Florida if they had played ten against the Gators this year? Name me one. Because I sure as heck know that I saw Greg Oden's best effort tonight, and I saw a lot of hustle from UCLA on Saturday, and I know either team would be lucky to get one out of ten games against Florida. Disagree with me? Impossible.
Florida had every weapon, rather, Florida had no weakness. They had dominant big men, three in fact, and they had killer guard and perimeter play. It's kind of hard to beat a team that can crush you either inside or outside, or both.
So why did they lose? What team that's one of the best ever in college basketball has a four game stretch in which they lose three? Answer me that. If you want to argue with me and say that they played their best ball when it mattered the most, then I'll tell you the regular season and post-season set up needs a serious overhaul where Florida would've had more incentive to play to their maximum potential. Either that, or I'll tell you that the Gators weren't worried about being considered one of the best teams ever. Because if they set their minds to it, they wouldn't have lost more than once all year.
I'm not comfortable calling the Gators one of the best teams ever after looking at their easy draw in the Midwest Regional, and the fact that they lost to Vanderbilt, LSU and Tennessee all within a four game span during the regular season. Correct me if I'm wrong, because I don't think I am.