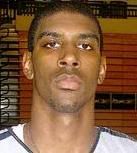 I guess when you're a highly touted athlete from West Virginia, you have no choice but to follow in the footsteps of fellow West Virginia natives Jason Williams and Randy Moss — maybe it's some sort of initiation process. WANE TV in Huntington West Virginia reports that
O-J Mayo was among four males cited on misdemeanor marijuana possession charges in Huntington, West Virginia, late last night. Cabell County Sheriff's Deputy Doug Adams says the driver had a small amount of marijuana on him and there was marijuana in a spare set of shoes in the back of the car.
That's a nice start to Mayo's career. Between this and the facebook group controversy, I'd say the Trojans are having a heck of a week.
Now who's going to go ask him about it on his myspace page?
Chest bump for commentor JS on the tip.
UPDATE: The citation has been dismissed — two dudes from Mayo's entourage fessed up two of the men he was with took responsibility for the marijuana
*****
Do you need more information on a drug treatment program? If you or someone you know needs to enter drug rehab, do your research. Sign online today for the most information on rehab centers. Whether you need drug detox or alcohol rehabilitation, we've got all the answers you need.
Google+