John Calipari Hiring Tony Delk, Scott Padgett to Coach at Kentucky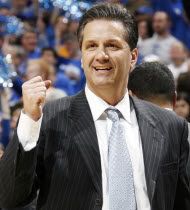 And that's why Kentucky brought John Calipari in to coach them. That, and because he's taken UMass and Memphis to the Final Four. While Billy Gillispie would have been fine job-wise if he had won a few more games and probably would have had great success at UK, I never saw him hiring the former stars of the program. That's something Calipari's already doing:
Saying he wanted to help them launch coaching careers, new UK coach John Calipari on Thursday said he would hire former Wildcat players Tony Delk and Scott Padgett.

"I've done this many times. What happens is with guys like that, they're in positions of assistant strength coach or assistant equipment manager," Calipari said.

"This is not a money thing," Calipari said. "If you want to get started in this profession, I will help you."

The new coach also said he will have 4-5 guys around every year who want to get into the coaching profession.
I'm not exactly sure how they can afford to just hire anyone and dole out all kinds of funds but this is a great way of stepping up fan relations. This guy is really smooth. I said you better have a great replacement in mind if you're going to fire someone who's good and Kentucky had that. Imagine how much easier it will be to recruit when all the Kentucky legends are on your side making phone calls. Coaches should take notes from Calipari on how to work alumni-relations. Are you listening, Sean Miller?