Damn You, Arizona, Ruining Seasons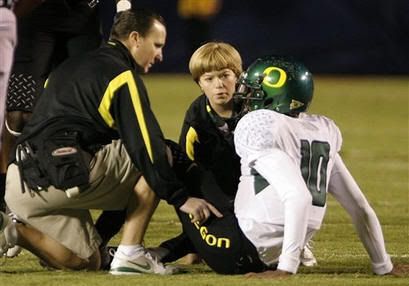 Well, I guess it was more of Dennis Dixon's knee ruining the season, with Arizona taking advantage while he was out. What really pisses me off is that Arizona sucks at football, and nobody on campus cares about their football team, so their wins go to waste. Think about it — if you're only going to go like 5-7 or something on the year, why bother knocking off a good team and ruining their season? If you're going to pull an upset, at least make it to a good bowl or something — make it worthwhile. Unfortunately, Arizona doesn't do that, so their upset wins are virtually meaningless. Big wins by the Wildcats don't change their program; they're not jumping off points for future success. They just are wastes and it sucks.
I'm going to take this a step further and say that Oregon should still be in the national title game if Dixon comes back healthy and they finish with just two losses. You cannot possibly tell me that there is another team in the country more dangerous than Oregon when Dixon is bouncing around on the field. They are a nearly unstoppable offense gaining 7-8 yards per play, it seems. The game was on its way to 15-0 and an Oregon blowout to start. Dixon gets hurt, enter a rusty Leaf, and it's over. I can easily let this loss slide. Sure, Oregon's defense is sketchy, but I'd like to see any team in the nation try to stop that offense when it's healthy. Good luck with that. That's why when January comes around, I'd still want to see Oregon in the title game, putting up a 40 spot.
(photo courtesy Wily Low)