Houston Nutt: This Is the Hardest Time Ever to Be a College Football Coach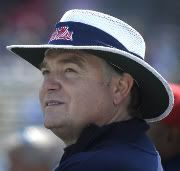 Maybe Houston Nutt knew something about Tommy Tuberville before the rest of us did, but there's no doubt that the recent climate amongst college football coaches has been murky at best. Seems like guys are getting fired at a rapid pace and that there is less and less patience, and higher and higher expectations. While I may call out coaches if I believe they're doing a poor job, I always believe you must be able to hire a better coach than the one you're firing to warrant the change. I'm on the record saying Mississippi State can't do better than Sylvester Croom, and that Clemson should have looked for someone other than Dabo Swinney. And last year I thought Arkansas was crazy to cut ties with (or make life miserable for, depending no how you look at it) Houston Nutt, who is currently the Ole Miss coach after being blown out by Arkansas last year. Nutt did a really good job at Arkansas, and has already worked wonders at Ole Miss. He's also pretty familiar with how tough the coaching landscape is these days. His response after being asked whether or not this is the hardest time to be a coach on The Monty Show on Sporting News Radio:
"I think it's probably the hardest time ever to be a coach. It is a business. I think it is important for coaches not to get lost in why they're really in it — and that's the 18, 19, 20-year-olds and trying to make a difference in their lives. It's too hard if you think that 'I'm in it for the money or I'm in to do this …' you get away from the real reason why you started coaching."
When you see guys like Phil Fulmer and Tommy Tuberville get blown out in the same year it really makes you agree with Nutt's comments. Everybody wants to win a title, go to BCS Bowl Games, win their conference, win 10 games a season … the list goes on. The expectations are outrageous and unrealistic. If Nick Saban's going undefeated, then there has to be 12 teams chalking one up in the "L" column each week. There simply aren't enough wins to go around to please everyone. And I really think teams in the SEC have just completely panicked as a result of The Saban Effect, and are firing good, reliable coaches in search of someone who can keep up with Saban.
Schools and fans need to get in touch with reality and learn to manage their expectations. When UCLA was looking to hire a new football coach, my goal was pretty simple: get someone who can make the Bruins an eight-win team on a consistent basis. Not a six win team as it was far too frequently under Dorrell, but an eight win team. And that means six on a down year, seven on an OK, eight if they lose a bowl, nine if they win. I don't think that's terribly unreasonable. Oh yeah, and under the right conditions with a recruiting class that really shines, maybe one BCS bowl game. Schools need to be honest with themselves before chucking legitimate coaches. At this point there just aren't enough good coaches to go around.