Lane Kiffin Will Take Your Jersey Number From You and Not Explain Why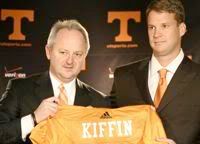 USC head coach Lane Kiffin is about as popular in Knoxville as sunscreen in Alaska. After hiring the coach and giving him everything he wanted, including the highest paid staff in the country, Lane rewarded Tennessee by bolting for Southern California just 14 months into the job. Any surprise they want to name a sewage center after him?
Now that Lane is gone, some of his former players are continuing to pile on. Todd Campbell is a former Tennessee receiver who just graduated but left the program to pursue graduate school. He shared the following story with the Knoxville News Sentinel as relayed by Sporting News:
"I was not the biggest Lane Kiffin fan," Campbell said.

The bad blood dates back to last summer, when Campbell was abruptly informed that his No. 11 jersey had been given to incoming freshman tailback Bryce Brown.

"I didn't get asked," Campbell said of the number switch. "That was a situation where I come back in June and there's a note on my locker that says you've been moved to 'No. 85'. This is your combination to your (new) locker."
…
"If he would have come to me and said something about it, I would have OK'd it. But just the way he did it left a sour taste in my mouth, but it's OK because you play football regardless of what number you wear."
Interestingly enough, Bryce Brown's status with the program is in doubt and he's not even listed on the team's roster. Additionally, many players didn't like that Kiffin put Brown second on the depth chart behind Montario Hardesty without Brown ever having played a down for them. I guess that's all what happens when you make promises to try and secure a high-profile recruit. I understand that, but it's just the way Kiffin handled the situation that bothers me. Campbell is rightfully upset — he's a team player and just wanted some honesty. Unfortunately it's a little too much to ask from a scumbag like Lane. I feel badly that USC fans will have to deal with this clown over the next season at least.
Sources:
Todd Campbell says 'I was not the biggest Lane Kiffin fan' [Go Vols Xtra]
Former Vols WR Campbell airs grievances with Kiffin [Sporting News]