Will the Mark Sanchez Conference Cost Pete Carroll in Recruiting?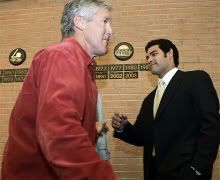 It's really tough to judge Pete Carroll based on his answers to questions regarding Mark Sanchez's decision to leave school early for the NFL draft. Carroll's clearly motivated by his desire to run a strong program, and having Sanchez back for a 5th year would ostensibly put the team in its best position to win the Pac-10 and compete for a BCS title. At the same time, he recruits and coaches his players and develops strong relationships with them over the years. Wouldn't he want the best for those players and want them to take his advice when he feels so strongly about a subject? Given the numbers and history of quarterbacks leaving school early, I understand why he advised Sanchez to return to USC, putting his own motivation aside. But I also understand why Sanchez left and can't blame him for it.
Mark Sanchez had the game of his life in the Rose Bowl and really could not be leaving on much of a higher note. It's not a guarantee that his stock will improve just by staying another year, especially considering the all-world performance he put on in Pasadena. Couple that closing note with Tim Tebow and Sam Bradford returning to school, and the choice to leave for the NFL seems like a logical one for me. If Sanchez's goal is to get drafted as highly as possible and to make a lot of money, this is probably the right move. Furthermore, Sanchez is a senior in school standing, and if he's really motivated to become a pro, who's to say he won't do well? And even if Carroll disagrees with the move, why tell the media?
I don't understand how it helps Carroll to tell people that he disagrees with the move. What good does that do him or the program? Couldn't that be used against him by other coaches in recruiting? Maybe potential recruits saw that and didn't like it. That's not to say that Carroll won't be able to get great players — he still will — but that wasn't a good sign. Though USC will still be strong next year, perhaps Carroll may be feeling some pressure from having coaches on his staff leave and one of his top players go pro. Look at Nebraska, Florida State, Tennessee, and Miami and some of the other dynasties of the past 15 years. You dominate for a good five years or so, then after that, things start going downhill. It's inevitable, and this might mark the first step for USC.
If you haven't seen video of the conference yet, here it is via Hot Clicks: