WAC Won't Let Hawaii Dance Haka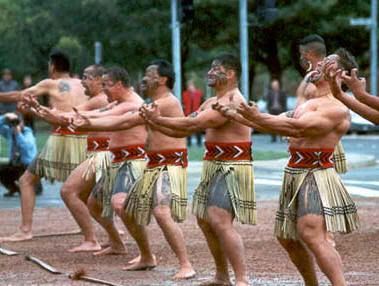 First we had June Jones complaining that nobody would come to the Island because Hawaii would kick everyone's ass there. Now we have officials penalizing them for doing nothing more than a pre-game dance routine. From the Honolulu Advertiser via Ben Maller:
Prior to the opening kickoff against Louisiana Tech, the Warriors were assessed a 15-yard penalty for unsportsmanlike conduct. The Bulldogs won the coin toss, opting to receive, and the Warriors were forced to kick off from their 15.
…
The NCAA has rules against unsportsmanlike conduct, but none specifically mentions the haka, a Maori war chant the Warriors began doing last year before games.
…
"I checked," Jones said of the guidelines. "We didn't do it on the field. We did it 75 yards away from the field. … It's not (unsportsmanlike). It's a cultural, spiritual thing. It's unfortunate. There's no unsportsmanlike issue in the book covering this."
See, that's what happens when you can't beat Hawaii on an even playing field. Personally, I think they're getting hosed on the call. The WAC is culturally biased. Let Hawaii dance, let them do the Haka. Otherwise, you will pay the price.