Washington loses touchdown on hands to face penalty (GIF)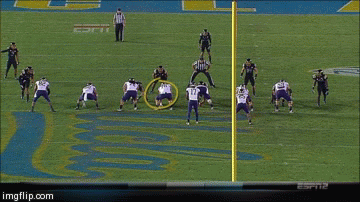 A personal foul penalty called in the second quarter cost the Washington Huskies a touchdown against the UCLA Bruins on Friday night, hurting the Huskies' chances at a comeback.
Washington was down 27-7 and had the ball at the Bruins' 38 when the penalty was called. Keith Price threw a touchdown pass on a 1st-and-10 play, but the touchdown was called back because of a hands to the face penalty called on left guard Dexter Charles. Not only was the TD erased, but the Huskies were pushed back 15 yards on the penalty. They ended up punting.
Washington made it a 10-point game at halftime and scored on their opening drive of the third quarter to make it 27-24, but without Keith Price, they were unable to make it closer.
I can't help but think the game would have been a lot different if that penalty weren't called. I certainly didn't see a reason for a flag on the play.
UPDATE: The Pac-12 later apologized to Washington for getting the call wrong.