Macho Camacho Hates Computers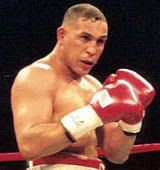 It's actually quite the irony because I was having a discussion with a friend over email about the Mayweather Jr./De La Hoya fight, and check out the line he threw out there: "I really think boxing's missing a personality. Even a Hector Macho at least had a little flair…" Well, turns out Macho Camacho has more than just a flair for personality (and check out his curl in the picture, that trademark was tight). Dudes heading to the slammer for busting up a computer store.
A warrant was issued for Camacho on Dec. 22, 2004, for a November burglary of a computer store. He was arrested in January 2005 on the burglary charge, and was also charged with drug possession after police allegedly found ecstasy in his hotel room at the Imperial Palace. Trial on the drug charge is tentatively set for June.
…
Camacho had bought a laptop from the business but had left it there for work on technical problems. He was trying to retrieve his computer, his attorney, David Morrison, said. The break-in was "a momentary lapse in judgment," he added.
Can you say drunk-much? Or high much? Kind of reminds of the scene from Office Space where Samir and Michael Bolton start stomping on their "going away present." Gotta love the line from the attorney — a momentary lapse of judgment. Or stupidity. Whatev. Hector Camacho faces up to seven years in prison and up to a $10,000 fine, but he won't wind up paying or serving a third of either. Gotta love that the judge sent him to jail because a bail bond man was having trouble tracking Macho down for two years. Guess Camacho took one too many blows to the dome during his day. Poor guy.