Erin Andrews: Dancing with the Stars Is a Demanding Schedule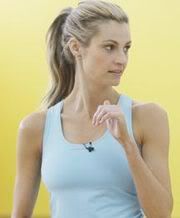 A few years ago we had the pleasure of interviewing Dancing with the Stars pro Karina Smirnoff whose partner at the time was Floyd Mayweather Jr. Karina's off the show this season but her words from two years ago are still applicable; Karina said she and her partners spent 8-10 hours a day practicing. That's quite a commitment, but it doesn't even encompass all the responsibilities for each contestant according to season 10 competitor Erin Andrews. In an interview with Jimmy Traina of SI's Extra Mustard, Andrews explained the demands of the DWTS schedule:
SI.com: What's the typical day for you like with the show?

Andrews: Usually, you do press starting at 5:30-6:30 in the morning and that goes for three or four hours. Then I record an interview for DWTS. Then I have an hour before I have to be at the studio and then I'm at the dance studio for six or seven hours.
Considering the payoff in terms of popularity gained and the corresponding earning potential increase each participant receives from appearing on the show, I'm not about to lend some sympathy here. My point is that based on Andrews' depiction of the typical show day, Chad Ochocinco might be completely burnt out when it comes time for the season to begin. Yeah I know he's a busy dude with all his ventures away from the field, but damn, this takes it a to a new level. At first I was worried about the lack of priority Chad's decision showed. Now I'm just worried that his legs will be done by training camp.
Sources:
Erin Andrews talks about death threats, ESPN future, DWTS [SI Extra Mustard]