David Beckham Booed in Kansas City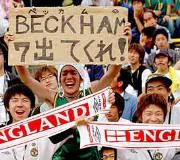 If Vince Young thinks he has it bad, maybe he needs to take a look at David Beckham. The international soccer star who was recently benched on the English national team, came home to the U.S. to a similar tune in the Galaxy's 2-0 loss to the Wizards:
Beckham, who arrived in Kansas City on Friday, missed a free kick badly – leading to boos from the crowd – and did not have much of an impact on the outcome. "Obviously, it's tough because I'm trying to get back into the time zone and didn't sleep well last night, which didn't help," said Beckham, who played the entire game. "It's something that I've got used to. It's tough at times, especially when I don't have many games before I play again."
Becks apparently traveled through nine different time zones, hitting up four different cities in three days. Thing is, that's the lifestyle he's created for himself — he shouldn't let it damage his play. Reality seems to be (not that I'm much of a soccer fan) that his skill has fallen off and that Beckham is nowhere near the player he was several years ago. Still, being booed is a common thing here so he shouldn't be surprised. On the bright side, at least he's not Carl Pavano.