High School Creates Football Skyboxes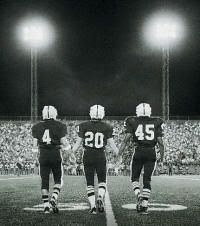 I just can't even muster up the words to describe how I feel about this news. Maybe it's because high school football wasn't a second religion in my town, or maybe it's because life for most kids begins in college. I don't know what the true root to this issue is. All I know is that a high school football program in Florida created skyboxes, and they're selling out.
As of Wednesday, [Athletic Director Teresa] Konrath had sold eight blue-level packages, which for $500 buys you four season tickets to all Marathon home games (excluding playoffs), as well as sodas and a meal catered by students in the school's new Culinary Arts program.
…
A silver-level package runs $600 and buys you six seats, while a gold-level package costs $700 for eight seats.
You know, it's bad enough they have a box for coordinators and coaches to film the games, but seriously, now skyboxes for fans to pay top dollar to watch their beloved hometown team? You have to be kidding me. This is taking things waaaay too far.
(via Fark)