Brett Favre Already Unretiring?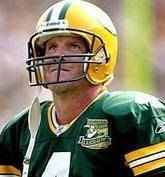 Last month I was uber-skeptical of Brett Favre's sudden, unexpected retirement. Sure, he had contemplated it the past few seasons, but coming off the great year he had and near Super Bowl berth, what possessed him to retire? I wondered if it had anything to do with the Packers being unable to pry Randy Moss loose from New England. Then last week the LA Times reported that Favre's agent was quietly contacting teams to gauge their interest in Brett, which the agent denied. And now we have these comments from Brett to the Biloxi Sun Herald:
When asked if he would return to football if the Packers called because of team injuries, Favre said:

"It would be hard to pass up, I guess. But three months from now, say that presents itself, I may say, you know what, I'm so glad I made that decision. I'm feel very comfortable in what I'm doing and my decision.
The rigors of staying in shape seem to be the only issue keeping Favre from giving an unequivocal "yes" answer to this question, but saying it's "hard to pass up" is a pretty telling statement. I thought something was up when he abruptly retired last month, like there were external factors pushing him out. The fact that he says he would have a tough time passing up an opportunity says to me this dude really wasn't set on retiring, and that something was pushing him out of the game.