Cam Cameron Should've Been Pickier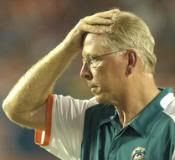 I thought it was a bad hire by Miami from the start. Cameron had no record as a head coach and was the offensive coordinator of a team that had LaDainian Tomlinson and Antonio Gates. If you can't succeed with those two, you're doing something wrong. On the other side of the coin, Cameron should have been pickier about choosing to go to Miami. I understand head coaching jobs in the NFL are difficult to come by, but sometimes you only get one shot, and if you go to a team that's a disaster, you could be done forever. That's why I don't understand Cam Cameron.
Had he remained in San Diego, not only would he have been in a better situation with much better personnel, but he might have even been promoted to head coach with the firing of Schottenheimer. Had he stayed in his offensive coordinator role in San Diego, he would've no doubt been just as hot of a coaching commodity this year as he was last year. Instead, he took a crap job with a team that was rebuilding and wound up going 1-15. Hello coordinator positions, bye bye head coaching spots. Do you think anyone is going to recycle Cam Cameron when looking for a head coach? Probably not. A guy like Jim Mora who would be a re-tread at least took the Falcons to the playoffs. Cameron went 1-15. I think his days are numbered.
Lesson be learned: no matter how much you want to become a head coach, being picky about what job you take is just as critical as how good of a coach you are. If you walk into a bad situation, your chance of succeeding goes down and that can ruin your reputation forever. Cam Cameron just found out the hard way.