Carson Palmer's Wife Pulls Plug on Ochocinco's Brokeback Summer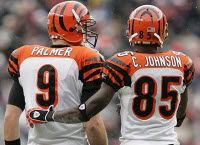 Chad Johnson/Ochocinco whatever you want to call him has enjoyed quite the eventful offseason. He admitted that he didn't do any conditioning prior to last season, he challenged a media member to a fight, and he said that he and Carson Palmer are on "Brokeback" terms. And in an effort to mend the relationship with his quarterback, Ochocinco said he was going to live with Palmer for the summer. That sounds great from Chad's perspective, but I always figured some members of the Palmer household wouldn't be too wild about him crashing their digs. Apparently that's the case for Carson's wife:
There's no way her husband, the Bengals' quarterback, is going to let Chad Ochocinco, the team's star wide receiver, crash at their Southern California home in July while the two work out together.

"I told [my wife], 'Don't worry. I haven't made any commitments to having to clear out the boxes in the (spare) room to make a bed for [Chad]. Don't worry about that. It's not going to happen.'

"I just told him that unless he's picking up my mortgage for the month of July and August, he can't stay. He's not living for free. I don't need another kid around the house."
Yeah, with newborn twins in the casa, why would Carson want to mess around with an even bigger, immature kid? Chad would have the media on the front lawn while doing push-ups. Besides, doesn't he have his own house and family to take care of? I guess it really just is Chad being Chad.