Daniel Snyder Must Be One Big Turnoff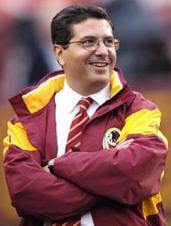 Daniel Snyder: friend to the assistant coach. He could be the best thing that's ever happened to NFL assistants everywhere. Much like everyone used the Arkansas gig to leverage better deals with their current schools (see Tommy Tuberville, Butch Davis, and Tommy Bowden), everyone's using Daniel Snyder and the Redskins to leverage better NFL jobs.
What, just last week Jim Mora was interviewing with the Redskins for their head coaching position, spending the night at Snyder's guest house. The former Falcons head coach was said to be a good candidate for the job. Well, nothing happened there, but three days ago it was announced that Mora would succeed Mike Holmgren as the next Seahawks head coach. Pretty sweet deal (though probably a portion of the announcement also had to do with him not taking any potential gigs at U-Dub). Then after interviewing Tuesday and Wednesday with Snyder, Giants defensive coordinator Steve Spagnuolo decided he would remain with New York and accept a new three-year contract to become the league's highest paid defensive coordinator. And though he hasn't yet received a new deal, Pete Carroll supposedly met with Snyder but nothing happened.
So what's the deal here? How can all these people be meeting with Snyder, and at such lengths, only to not accept? The Skins seem like a good team, and the job seems somewhat desirable based on the talent currently on the roster. Maybe these candidates were using the negotiations as leverage and never intended to take the job. Or maybe, just maybe, they all get a bad impression from Dan Snyder. After all, the guy sounds like a huge prick according to one NFL coach.