Derek Anderson Is Playing Like a Star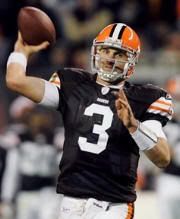 As much as I've verbally dry-humped Randy Moss, the Patriots, and a few other players this year, there's one man to whom I've devoted a tremendous amount of praise. If you saw my week 10 picks, you would know that it's none other than Browns QB Derek Anderson. A few weeks ago, I proclaimed that Derek Anderson was playing like a star this year. Naturally, I drew a few blanks from the crowd with the statement. I gave my argument, but it's been hard to win people over. So let me just say it here for all of you: Derek Anderson right now is the third best quarterback in the league behind Manning and Brady.
Crazy, right? Sure, you could make an argument for Romo, Favre, Roethlisberger, but no, in my opinion, you would be wrong. The same player who was apparently beaten out in the preseason by Charlie effing Frye, has developed into an elite quarterback in the NFL. I'm not saying he's going to keep it up the rest of the season, but I think it must be acknowledged that he is straight up balling right now. The Browns have become a scoring machine, and Anderson is connecting with receivers Braylon Edwards, Kellen Winslow Jr., and Joe Jurevicius on the regular.
My man Michael David Smith had a great article this week pointing out that the Ravens originally drafted Anderson but waived him. Clearly neither they nor the Browns realized what they had. Now I'm not anointing him as the next great NFL quarterback, but I'm comfortable saying that Brady Quinn can only aspire to be as good as Derek Anderson has played over the past two months. The Browns have the best possible problem on their hands.