Enough of this Tom Brady Boot Crap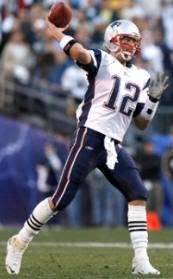 Hopefully I can bring some closure to this awful topic that's been so prevalent in the sports world the past few days. Why all of a sudden did the sports media turn all paparazzi on Tom Brady? Why did people grow so frantic about a football player visiting his girlfriend with a walking boot on his foot? The treatment of this story by the media was both absurd and disgusting. Honestly, I was truly embarrassed to be a sports fan watching the media prod the photos like they were chastising Britney Spears for driving with her kids on her lap.
Oh my god, oh my god, look, Tom Brady has a walking boot on! Oh my god, he's hurt! Oh my god, he went out to a club at night and wasn't wearing the boot! Seriously, to see some of my favorite sports shows break this down or use tabloid stories as their leads made me sick.
Wednesday night at Sporting News Radio, host Todd Wright asked his guest (a writer covering the Patriots) about eight minutes into the interview if there was any concern about Brady's ankle. Wright prefaced the question by asking if he properly placed the Brady question in the context of the interview — towards the end of it — where an issue of less importance would belong. It was proper placement; it's an overblown story but still merits some discussion. Bottom line: the guy is fine, just suffering from battle wounds like any other player would be following a rigorous game the previous day. He's going to shred the Giants and win another Super Bowl MVP. End of story.