Fan Charged $28k to Watch Bears Game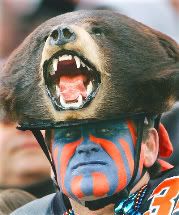 I just thought this story was ridiculous the moment I read the headline, but once I got into the meat of the article, I nodded in agreement. Sports by Brooks shared the story of the Chicago Bears fan who was docked in a port in Miami getting ready for an international cruise, and decided to watch the Bears game before the ship departed. The fan watched on his trusty slingbox before disconnecting as the ship was getting set to sail. We'll let the Chicago Sun-Times take over from there, telling it first-person from the fan's point of view:
Anyway, I got home from our cruise, and about two weeks later I got my cell phone/wireless card bill, which is usually about $220, and it said I owe $28,067.31.

I called AT&T and told them there was either a mistake or fraud and to please take this off the bill. That's where the fun starts. They told me that the bill was correct and somehow I was charged international rates for Internet use, and the cost is 2 cents per kb. That came out to $27,788.93.
Naturally the dude's been fighting with the phone company ever since and the best he's done is negotiate that sucker down to around six grand. That's a start, but still not too helpful considering he was docked and not at sea (thus not roaming) and shouldn't have been charged as much as he was. But you know how frustrating calls can be with your phone company when you're fighting a bill, right? Just check out this vid shared by Jimmy at Hot Clicks last week: